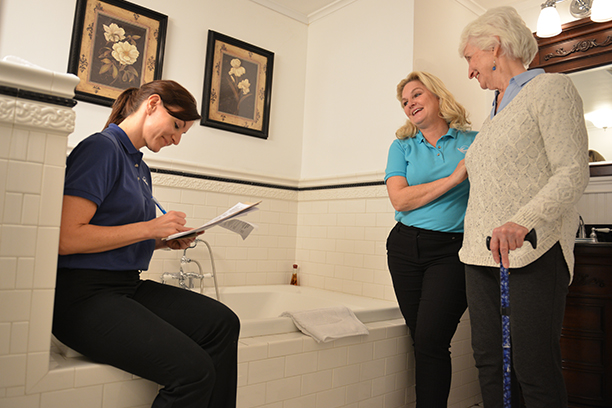 Independent Senior Living in Beaver Dam WI
Just because our loved ones age and begin to slow down doesn't mean they can't continue to enjoy the benefits of independent senior living. Many seniors are still active and involved in activities such as church, volunteer organizations, hobbies, and more. Sometimes all that's needed to continue an autonomous lifestyle is a little help from a home care provider. Agencies such as Visiting Angels Beaver Dam WI help elderly members of the community maintain their freedom.
Driving Assistance for Independent Senior Living
Many seniors first begin to experience a loss of independence when they must give up driving. Family members can offer to help, but may not always be available to drive an elderly loved one when desired outings are scheduled. Without the ability to drive themselves, some seniors can have trouble getting to appointments, meeting up with friends, or staying involved in activities. Senior living professionals from Visiting Angels Beaver Dam WI can assist your loved one with transportation making sure they arrive safely to where they want to go.
Household Help for Independent Senior Living
Another area where senior living assistance from Visiting Angels Beaver Dam WI is particularly helpful is around the house. Let's face it, most of us don't enjoy housekeeping even when we are young and agile. When home tasks begin to take longer and become more tedious, it can be easy to let things slip. An Angel companion can help with things such as household organization, vacuuming, laundry and other light housekeeping tasks. A helping hand makes the work go faster!
Meal time can be a challenge to independent living for some seniors. Particularly if you have new dietary restrictions from a physician, knowing what to cook can be intimidating. Visiting Angels Beaver Dam WI has senior living assistants to help with meal planning. Not only that, they can help with grocery shopping and preparation of nutritious meals. Seniors also gain a mealtime companion and lively conversation when they have a caregiver around to help with meals.
Assistance with Daily Tasks in Beaver Dam WI
Along with driving and household organization, elder care professionals from Visiting Angels Beaver Dam WI can support independent senior living by helping with other daily tasks. A knowledgeable caregiver can aid their elderly clients in remembering to take medications, helping with hygiene, going for walks, keeping in touch with family and friends, and much more. At home senior living has never been easier than it is with the assistance of a home care professional from Visiting Angels Beaver Dam WI.
Independent senior living is possible when you call Visiting Angels Beaver Dam WI for help.
Call our office today to learn how we can help your loved one continue to live independently.
Serving Dodge & Columbia Counties
Visiting Angels
BEAVER DAM, WI
140 Corporate Dr #2
Beaver Dam, WI 53916
Phone: 920-821-1111
Fax: 920-328-0324