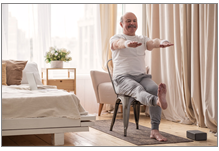 Practical Tips to Help Older Adults Stay Active in Retirement
Many older adults look forward to retirement. After dedicating most of their adulthood towards building a career or raising a family, it's natural for many seniors to dream about a relaxing retirement. However, too much relaxation in older adulthood can increase a senior's risk for depression, heart disease, diabetes, and early mortality.
On the other hand, seniors who pursue an active retirement add years to their life, boost their immune system, reduces their risk for heart disease or stroke, and delay the onset memory impairment. Active retirement is more than simply staying busy. It's engaging in meaningful activities that enhance a senior's quality of life. If you're a newly retired senior, or feeling restless as you've settled into retirement, here are a few practical tips to help you stay active and add more meaning in this season of your life.
Write Down a Bucket List
An easy way to stay active in retirement is to write down a list of experiences or goals you hope to achieve in your lifetime. Whether it's visiting a foreign country, spending more time with your grandchildren, learning a new skill, or writing your memoir, having a record of your dreams will encourage you to pursue them. A bucket list helps many seniors find more purpose in their retirement. It also helps seniors stay active as they work towards fulfilling their goals.
Commit to Something for a Year
Another tip to stay active in retirement is to commit to something for at least a year, or more. Retired seniors have the luxury of time. However, without a regularly scheduled commitment, time can quickly slip away. Keep your mind sharp and engaged by signing up for a class or volunteer opportunity. Consider becoming a mentor to someone younger in a similar profession. Join a book club or get involved in hobby classes that you've always wanted to do.
Include Exercise in Your Daily Routine
Exercise is a very practical way for older adults to stay active in retirement. It's easy to find 30 minutes a day for exercise when you no longer have a career to focus on or children to raise. Include exercise in your daily routine so that it naturally becomes a habit. If you don't know where to start, start by having a conversation with your doctor about exercise. Then, sign up for a fitness class geared towards older adults or invest in the right fitness equipment to help you stay active at home. Exercise not only boosts health, but it also wards off depression and helps older adults maintain their independence in later years.
Stick to a Routine
After years of being subjected to someone else's schedule, most newly retirees prefer the luxury of doing what they want, when they feel like it. However, without a routine of some sort, it's easy for older adults to fall into bad habits. Stay active in retirement by sticking to a routine. Your routine can look more relaxed now that you're retired. Yet, it should include healthy habits, such as daily exercise, set mealtimes, activities that are mentally stimulating, and a consistent bedtime. Seniors who stick to a routine are more likely to stay active and achieve their retirement goals.
Another practical tip to help older adults stay active in retirement is to partner with Visiting Angels Beaver Dam. We offer a comprehensive approach to senior home care that allows seniors to remain in the comfort of their own home. In addition to assisting with basic household tasks and personal care, our professional caregivers can help you stay engaged in meaningful activities. Let us be a part of your routine and plan to pursue an active retirement. To learn more, please contact us today by calling 920-821-1111.