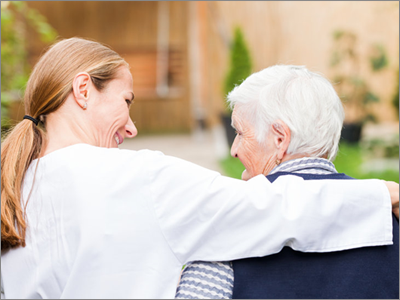 Why You Should Choose Visiting Angels as Your Employer
The demand for professional caregivers is exceptionally high. As the baby boomer generation continues to grow older, it's estimated that nearly half will need help with activities of daily living. Most older adults report preferring to age in place. This means they'll need to rely on family members for care, hire a professional caregiver, or combine the two to receive adequate support.
Perhaps you've been considering a career in caregiving. Similar to how older adults need to do their due diligence before choosing a home care company, applicants should also do a little research before accepting a position with just any company. While most applicants think a job interview is just about the employer liking you, it's an excellent opportunity for applicants to learn more about their potential future employer and what makes that employer stand out amongst the competition. If you are seeking a job as a professional caregiver, here's why you should choose Visiting Angels Beaver Dam as your employer.
We are a Nationally Recognized Team
Visiting Angels is a national home care franchise that is independently owned and operated. Being a part of the Visiting Angels franchise means that local branches have a wide range of support. From one-on-one and regional group support meetings to annual franchisee conferences, owners have many opportunities to learn and grow. The Visiting Angels brand is a nationally recognized home care company committed to providing exceptional care. When you work for Visiting Angels Beaver Dam, you are joining a nationally recognized team.
We Offer a Variety of Benefits
Visiting Angels Beaver Dam is proud to offer employees competitive pay, as well as other wonderful benefits. Full-time caregivers receive health benefits after their first 90 days with the company. We offer paid orientation and training to new employees, as well as paid job shadowing and paid meet-and-greets with clients. There are opportunities for caregivers to advance, as well as to earn rewards through our Caregiver Recognition Incentive Program. We recognize that our caregivers are the backbone of our business, and we cannot operate to our fullest potential without the dedication of our caregiving team.
We Provide Ongoing Training
In addition to initial training and new employee orientation, we provide ongoing training and support for our caregiving team. We equip our caregivers through customized, educational classes with the Visiting Angel's owner, our staff, and other professionals from the healthcare community. We recognize that some applicants are new to the field of caregiving. We want to help establish their skills and build their confidence to execute caregiving tasks with professionalism. We also understand that the needs of older adults are constantly evolving. We want to be on the cutting edge of home care to remain at the forefront of the industry.
We are There for You
Visiting Angels Beaver Dam believes strongly in supporting our caregivers. As mentioned above, our caregivers are the backbone of our company. Without them, we would not exist. Just as we need to be there for our clients, we are equally invested in supporting our caregivers. You can call us with questions or concerns without fearing that you will be dismissed. Our caregivers are like family to us, and we do our best to encourage communication and build relationships with each member of our team.
If you have a passion for the elderly, enjoy a flexible schedule, and are looking for a job that's more rewarding than sitting behind a desk all day, look no further than becoming a caregiver with Visiting Angels Beaver Dam. We are currently seeking applicants who are interested in starting a rewarding career with us. Please get in touch with us by calling 920-821-1111 or apply online today.