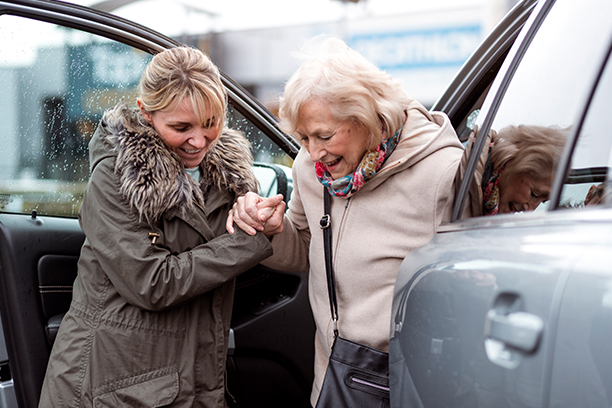 Columbia County Senior Home Care
Visiting Angels helps elderly Columbia County residents live a happier and more comfortable lifestyle while remaining in their own home.  One-on-one in -home care, love and assistance is assured through caregivers who are fully insured and bonded.  Our professional Columbia County senior home care services can help give extensive non-medical aid to those in need, so they can continue to live a rich and fulfilling life in their own surroundings.  We pride ourselves on compassion and dignified service, to make independent living a possibility despite the troubles that old age or disability brings.  Our trusted and referred caregivers will go above and beyond to make this a reality for you or your loved ones. Since 1998, Visiting Angels has been providing elderly care across the U.S.  Our commitment to you is stated in our mission: Assist our clients so they can continue to live comfortably in their homes and maintain their independence in familiar surroundings. We are dedicated to providing an outstanding experience for our clients, their families and our caregivers. By operating our company on highly ethical and professional level, we will enhance the lives of all those we serve.
Columbia County Senior Home Care
You control your Columbia County senior in-home care based on your needs and concerns. All schedules and plans are built around you. Our dedicated team will help you create a personalized service that can include:
Bathing Assistance
Dressing Assistance
Grooming
Assistance with Walking
Medication Reminders
Errands/Shopping
Light Housekeeping
Meal Preparation
Friendly Companionship
Flexible Hourly Care
Respite Care for Families
24 Hour Care
We help to ease the burden on you by:
Consulting with you about scheduling, costs and care
Scheduling a free in-home visit
Helping you create your own personalized care plan
Providing consistent, reliable referrals of outstanding experienced caregivers that you select and approve
Columbia County Elderly Companion Service
We know that many seniors can find a caregiver visiting their home a nervous occasion. That is why we put you in control of your caregiver selection process. We will help you identify your loved one's needs and match them with a group of compassionate in-home care providers.  We know that no matter how much family members love and care for their elderly relatives, sometimes work demand and schedules prevent them from being able to give their full attention. That's why our caregivers pride themselves on showing compassion and friendless. The safety of seniors is a high priority for us! Each referred caregiver as well as our office staff member's background is thoroughly checked by state officials and local agencies. We are licensed, bonded and insured with the appropriate insurance.
Private Duty Home Care Serving Columbia County, WI
Our caregivers are scheduled for when you need them. Care is available seven days a week, all year round. If you need a caregiver who is awake through the night, that can also be arranged.
Columbia County Respite Care
Caring for a loved one is one of the most generous things a friend or family member can do. It requires dedication, patience and a generous amount of time to carry out care properly. We know it's tough though and sometimes, you need a break.  The Visiting Angels in-home respite care program can help you if you need to focus on other things or simply need a rest. We can refer your loved one a trained caregiver who can visit your loved one's home.  Whatever your needs are, it can be beneficial to have someone remove the workload and help with certain tasks. By simply stepping away for a few hours, you can remove the pressure and anxiety from yourself. Whether your loved one needs some company during the day or more extensive home-care tasks, a Visiting Angel referred caregiver can help.
Columbia County Senior Life Care Navigation
We aim to assure this dignified and compassionate care for:
Columbia County Palliative Care
Palliative Care provides elderly Allentown residents the opportunity to improve their quality of life by focusing on their physical, emotional, and social needs. Our goal is to enrich the lives of all our clients, regardless of their life expectancy or illness. We strive to relieve discomfort and improve the overall quality of life for our clients.
Alzheimer's Care in Columbia County
Alzheimer's sadly can be one of the most devastating and heartbreaking diseases a loved one can suffer with. The fatal brain disease causes a slow decline in memory, thinking and reasoning skills. We know how much it can hurt to put a suffering Alzheimer's relative in a care home. We can provide in-home care with caregivers who have advance training in Alzheimer support in Columbia County. An appropriate caregiver is exceptionally important for anyone who has Alzheimer's and that's why we offer our caregiver matching program to help find the caregiver who can provide comfort and bring as full a life as possible.
Ready-Set-Go Home (Reducing Hospital Readmissions)
Ready-Set-Go Home is a transitional care program we designed to allow seniors of Columbia County to make a successful transition back into life in their own home, after a hospitalization. Reducing hospital readmissions is crucial to a full recovery. Roughly 20% of discharged Columbia County patients return to the hospital within 30 days, after being sent home. Once they end up back in hospital, chances of recovery drop. Our program is committed to coordinating your loved one's transition back home and providing them with the non-medical support they need to thrive and feel comfortable again.
Columbia County Social Care Provider
Visiting Angels focuses on making sure the mental well-being of our clients is valued as much as their physical and logistical needs. Our holistic approach includes meeting their social needs. As well as providing companionship themselves, caregivers will help elderly clients with the ability to stay connected to family and friends online. Elderly can use browsers, Facebook, Skype and FaceTime to remain engaged and active. A University of Arizona study found that seniors who used technology to socialize found a 25% improvement in their mental skills.
Columbia County Dementia Care Service Provider
Whether your family member has early-stage, mid-stage, or late-stage dementia, our trained and loving caregivers can provide support to help them remain at home comfortably. Our dementia care services are offered through our Life Care Navigation program. This service includes a dedicated Alzheimer's care program. Alzheimer's is the cause of 60-80% of all dementia cases. At Visiting Angels we know how complicated giving Dementia Care can be. That's why we offer free care assessments to help you determine if our Columbia County care services are right for your loved one, from the comfort of their own home.
Our dementia care services commonly include:
Walking assistance
Transferring assistance
Dignified bathing, dressing and grooming care
Medication reminders and monitoring
Preparation of healthy meals
Light housekeeping chores
Transportation to appointments and therapies
Columbia County End of Life Care
Our End of Life care services provides Columbia County seniors with the opportunity to live at home as comfortably and happily as possible, during the end of life process. Our compassionate caregivers will provide support and assistance to your loved one and their family, during this time. We hope that by taking care of some of the more tedious and laboring tasks, you and your loved one can focus on the aspects of life that matter most. Our caregivers will provide non-medical support to help minimize any discomfort, assist with personal tasks such as dressing, bathing, and daily hygiene. We pride ourselves on never overlooking any aspects that can make this journey hard. At Visiting Angels, we offer a comforting presence to relieve feelings of loneliness, fear, and anxiety.
Long Distance Caregiving for Columbia County, WI Residence
We know how concerning it can be if you suddenly realize a loved one needs care, but you live too far away to provide it or organize it yourself. That's why we designed a Long Distance Caregiving Service. Our referred caregiver and the Visiting Angels team will be constantly available to contact. They will provide you with detailed updates on the wellbeing of their senior client and address any concerns you have. We strive to make sure communication is clear and we won't leave you in the dark or delayed with any news.
Serving Dodge & Columbia Counties
Visiting Angels
BEAVER DAM, WI
140 Corporate Dr #2
Beaver Dam, WI 53916
Phone: 920-821-1111
Fax: 920-328-0324