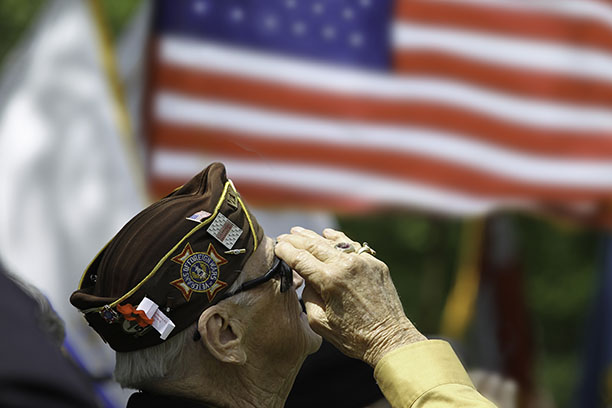 Learn About Veteran Care Programs Available to Veterans and Spouses
The VA and Visiting Angels Beaver Dam, WI, Come Together to Provide Exclusive Home Care Benefits to Veterans
Need an Angel by your loved one's side? Contact us today for more information on using Veteran Benefits with Visiting Angels in Beaver Dam, WI.
In-Home Support You Need From A Team Who Cares Deeply
Most seniors prefer to remain independent as they age; however, not all can do so easily. The day-to-day can become difficult and frustrating. Military veterans may have even more trouble daily because they are prone to Alzheimer's disease, PTSD, and additional health issues.
Visiting Angels Beaver Dam, WI, is an approved Veteran home care provider serving Beaver Dam and the communities of Dodge and Columbia counties in Wisconsin.
What Benefits Are Available for Veterans?
Visiting Angels is partnered with the VA to provide many services and resources for veterans (active duty naval, air, or military) who did not leave under a dishonorable discharge. Additionally, military spouses qualify for some of the in-home care benefits given to Veterans.
The Aid and Attendance Program
The Veteran Aid and Attendance program provides financial assistance to military veterans and their spouses who need help with activities of daily living (DAL). These services can look like:
Bathing
Dressing
Toileting
Eating
Active and passive exercise
Transfer or ambulating
Additional services provided by Visiting Angels Beaver Dam, WI, can include:
Emotional support and companionship
Respite care for loved ones actively participating in the care of the veteran/spouse ● Housekeeping and laundry services
Meal preparation
Medication and appointment reminders
Running errands
Military veterans must meet specific eligibility requirements to be qualified for the Aid and Attendance Program. You can find those requirements and information here.
Homemaker and Home Health Aide Care (H/HHA) Program
The H/HHA program assists seniors ordered by a VA physician. The H/HHA program, designed for veterans who need targeted medical attention, includes medication management, wound care, various therapies, and more.
At Visiting Angels Beaver Dam, WI, we work with your VA medical team to ensure you get the care you need in the comfort of your home. This program is tailored to meet your unique needs and is a no-cost program provided by the VA healthcare system.
Do You Meet the Qualifications for These VA Benefits?
Qualifications that your senior military loved one needs to have to move forward in the VA application process are:
Eligibility for the Veterans affair pension
Require the aid or assistance of a caretaker or be housebound
Served at least 90 days with at least one day during wartime
Veteran or spouse must have less than $80,000 in assets (not including the home or vehicles)
Once you've established whether you are eligible for these VA programs, fill out the right documentation and submit your VA application.
Home Care That Puts Your Loved One First
At Visiting Angels Beaver Dam, WI, our attentive professionals help veterans and seniors maintain their independence in a safe environment with reliable care. We understand the sensitive nature of working with military veterans and pour our hearts and souls into providing exceptional care.
Learn more about our senior care services or speak with a Visiting Angels Beaver Dam representative about your family's needs. Contact us today. We'll help you navigate the VA process and be the care your loved one deserves.
Serving Dodge & Columbia Counties
Visiting Angels
BEAVER DAM, WI
140 Corporate Dr #2
Beaver Dam, WI 53916
Phone: 920-821-1111
Fax: 920-328-0324