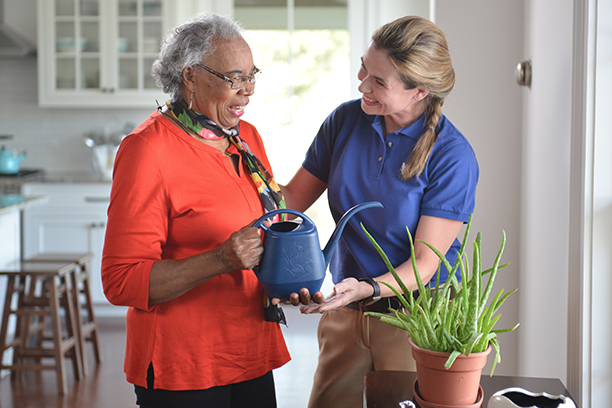 Elder Care Providers in Birmingham Helping the Flu
During the upcoming flu season, it's vital that seniors throughout the Birmingham area follow a solid flu prevention plan. Not only is the flu virus especially contagious, it also poses numerous threats to high-risk individuals like senior adults. Since the body's immune system weakens over time, older adults have a greater likelihood of experiencing serious flu-related complications. At Visiting Angels® Birmingham, our team of professional elder care providers help seniors implement essential flu prevention techniques. Our elder care services are available for senior adults in the Birmingham area, including Trussville, Pell City, Gardendale, Alabaster, and the surrounding communities.
Elder Care and Flu Prevention in Birmingham
Getting an annual flu vaccine is one of the best flu prevention methods for high-risk individuals, including people who are 65 years of age or older. An elder care provider from Visiting Angels Birmingham can assist your loved one with getting to a clinic that administers this vaccination. Those who come into close contact with high-risk individuals should also consider getting vaccinated in order to inhibit spreading this virus to those who are particularly vulnerable.
The flu vaccine has been specifically designed to provide protection against the particular strains of influenza viruses that are projected to be the most widespread during the upcoming flu season. However, even if you and your loved ones do get vaccinated, it's still vital that you practice other forms of flu prevention. For example, washing your hands frequently throughout the day with soap and warm water can help prevent the spread of germs and viruses.
Elder Care and Flu Recovery from Visiting Angels Birmingham
If you or your loved one do come down with the flu, it's important to visit a physician and follow their directions. The doctor will likely prescribe antiviral medication, which can minimize the chances of serious flu-related complications for high-risk people. Our elder care services at Visiting Angels Birmingham can also assist your loved one with making a full recovery. Our compassionate care providers offer vigilant monitoring, assistance with walking and mobility, support through grooming and personal care routines, and help with planning and preparing nutritious meals.
Make sure your loved one in the Birmingham area, including Trussville, Pell City, Gardendale, Alabaster, or the surrounding communities, stays healthy this flu season. Call Visiting Angels Birmingham today at (205)719-1996 to learn more about how our elder care services can help.
Serving the Birmingham Metro Area
Visiting Angels
BIRMINGHAM, AL
52 Medical Park Dr E #210
Birmingham, AL 35235
Phone: 205-719-1996
Fax: 205-719-1995
400 Vestavia Pkwy #260
Birmingham AL 35216
Phone: 205-719-1996