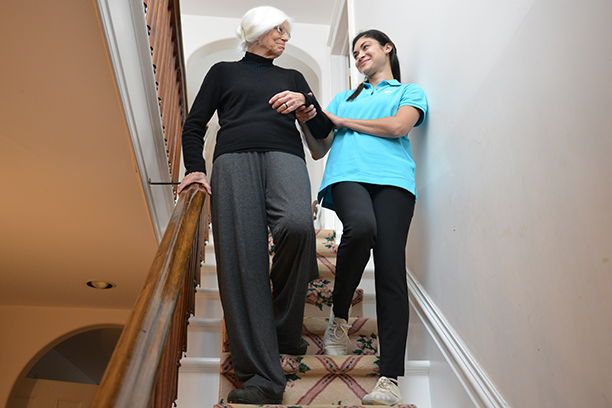 Elderly Companion Care
Elderly Home Care from Visiting Angels Birmingham AL
When you have an aging parent or loved one who is in need of care and companionship at home, it's a perfect time to contact Visiting Angels Birmingham AL for elderly home care. Our locally owned agency helps elderly and disabled persons in Anniston, Talladega, and throughout the Birmingham area. If your mom or dad could benefit from assistance at home and the companionship it provides, Visiting Angels Birmingham AL is here to help.
How Elderly Home Care Services Help
You might be wondering how elderly home care can help for your loved one. For some of our clients, elderly home care services means providing patient assistance with hygiene care and dressing in the morning. Whereas before they may have had difficulty buttoning a blouse or buckling a belt, now they have someone to help. Perhaps your family member may have resorted to nibbling snack foods or skipping meals because it was easier than grocery shopping or preparing dinner. Now their Angel companion can accompany them to the store and help with cooking. These are just a few of the ways elderly home care from Visiting Angels Birmingham AL can make your parent or loved one's life easier.
At Visiting Angels Birmingham AL, our elderly home care providers understand your loved one may not have as much social interaction as they used to. The inability to drive, or physical limitations can make it challenging to socialize like we used to. Having an elderly companion to share tasks and time can make a huge difference in your family member's feeling of connectedness. Elderly home care professionals from Visiting Angels Birmingham AL are happy to spend time with your mom or dad engaged in activities such as puzzles, card games, going for walks, or even just sharing conversation.
Flexible Scheduling in Birmingham AL
Because everyone has varying needs when it comes to scheduling elderly home care, Visiting Angels Birmingham, AL offers flexible scheduling options. One client may wish to have a companion around in the evening to share dinner and help with bedtime routines, while others may want a caregiver around in the morning to help with dressing and daily tasks. Family members might wish to have someone in their loved one's home overnight to look out for them and assist with trips to the bathroom. Whatever your scheduling needs, the flexible elderly home care options from Visiting Angels Birmingham AL have you covered.
Contact Visiting Angels Birmingham AL today to speak with a knowledgeable professional about elderly home care for your loved one.
Serving the Birmingham Metro Area
Visiting Angels
BIRMINGHAM, AL
52 Medical Park Dr E #210
Birmingham, AL 35235
Phone: 205-719-1996
Fax: 205-719-1995
400 Vestavia Pkwy #260
Birmingham AL 35216
Phone: 205-719-1996