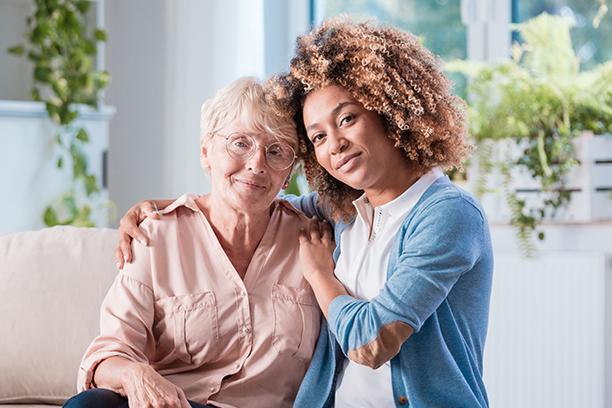 At Home Care from Visiting Angels Birmingham
Caring for someone who can no longer fully care for themselves takes a toll. It's stressful, exhausting, and can even cause you to become ill yourself. If you're in this position, you may be wondering: Is it time to ask for help? At Visiting Angels Birmingham, we know that the decision to bring in an at home care agency is never easy. However, don't wait until an emergency happens. Know the signs that your loved one may need professional care at home, so you can help keep them safe, healthy, and independent for as long as possible.
Signs Your Loved One May Need At Home Care
Sign #1: They can't maintain their regular routine. For instance, they don't make it to doctors' appointments, forget to take their medicine, aren't able to keep their home clean or cook healthy meals, and have a hard time with personal care needs, such as bathing, dressing, and grooming.
Sign #2: Their safety is at risk. They may struggle with walking or getting down stairs and have even experienced several falls recently. They may leave burners on in the kitchen and forget to lock the doors at night. Whatever the case, you're afraid for their safety when you know they're alone.
Sign #3: They are suffering from boredom or depression. When seniors go without any social activity for long periods of time, they'll eventually get bored or depressed. However, an at home caregiver can help alleviate any unhappiness or despair by encouraging your loved one to visit friends, pursue activities they enjoy, or simply provide some companionship and conversation.
Why At Home Care From Visiting Angels Birmingham?
At Visiting Angels Birmingham, our approach to at home care focuses on the entire person, improving many of the physical, mental and emotional issues that come with aging. We strive to provide your loved one with comprehensive, compassionate care. Beyond meeting your loved one's physical needs, our caregivers can also relieve feelings of isolation and unhappiness by offering a sympathetic ear. If needed, we can even provide specialized Alzheimer's and dementia care services.
At Visiting Angels Birmingham, we offer a variety of non-medical, at home care services to seniors throughout the Birmingham Metro Area, as well as Trussville, Pell City, and Gardendale. If you'd like to learn more or want to schedule a no-cost consultation, call our office today.
Serving the Birmingham Metro Area
Visiting Angels
BIRMINGHAM, AL
52 Medical Park Dr E #210
Birmingham, AL 35235
Phone: 205-719-1996
Fax: 205-719-1995
400 Vestavia Pkwy #260
Birmingham AL 35216
Phone: 205-719-1996