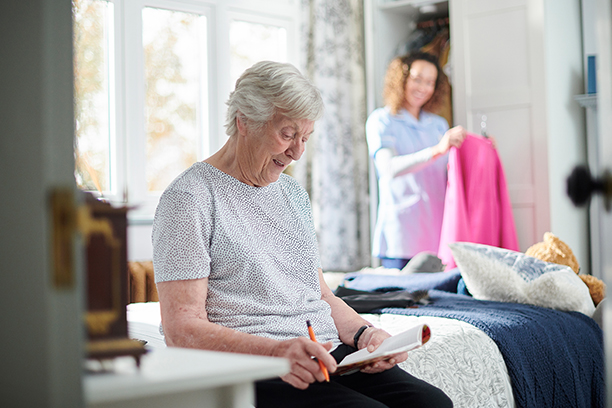 Long Distance Elder Care in Birmingham
How Visiting Angels Birmingham Can Help Your Family Find Peace of Mind
It's always hard when you live so far away from family. But that's especially true when you have an aging parent or loved one who needs elder care. At Visiting Angels® Birmingham, we appreciate the difficulties of coordinating caregiving services from a distance. Our home care agency offers long distance services, so we can provide your loved one with the care they need while keeping your family in the loop.
If your loved one lives in Birmingham or Jefferson County, we can work with you to set up elder care services that meet their needs. You and your family can weigh in on frequency of care, type of care, and even have final say on a caregiver.
Even after care services are set up, we continue to keep you up-to-date on your loved one's well-being and care. We make sure you stay connected every step of the way.
Flexible Elder Care in Birmingham
Visiting Angels Birmingham always takes a responsive approach to elder care. That means we never rely on a standardized or one-size-fits-all care plan. Instead, we work closely with seniors and their families to establish the parameters of care needed, with options ranging from short-term care or 24-hour live-in care.
We personalize care based on the needs of each client, looking at their condition, the type of tasks they need support with, their preferences, and even their habits and routines.
We know that the need for home care can shift in unexpected ways, which is why our care plans are always highly flexible. Our caregivers can even offer hospice care, with staff trained in specialized hospice protocols.
Coordinating Elder Care With Visiting Angels Birmingham
When you live far away, scheduling and coordinating calls and decisions can be a trial. Our home care agency can help with that, staying in contact with you and your family by phone and email throughout. We typically conduct elder care consultations in-home for seniors throughout the region, including:
Birmingham
Clanton
Mt. Brook
Hoover
Bessemer

We can schedule this consultation in tandem with a phone consultation that includes any family members responsible for care decisions. Once we've established the schedule of care that's needed, we'll match your loved one to a regular and dedicated caregiver. That way, they're always looked after by a trusted care specialist.
With Visiting Angels Birmingham, you can stay in contact by email or phone throughout your loved one's elder care journey. Get in touch to find out more.
Serving the Birmingham Metroplex Area
Visiting Angels BIRMINGHAM, ALABAMA
400 Vestavia Pkwy #260
Birmingham, AL 35216
Phone: 205-979-7400