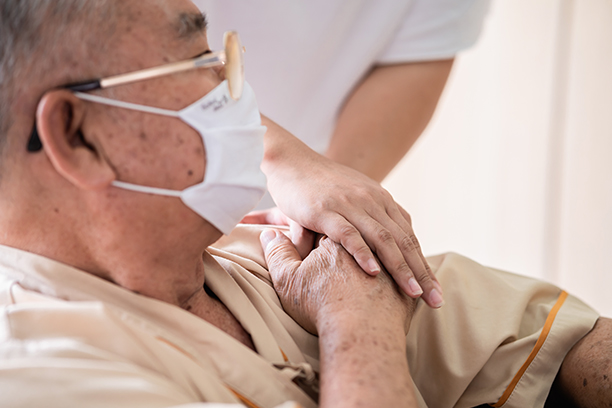 Meet Our Team
Sandee Dougherty
Owner, Visiting Angels Canton, OH
How I started Visiting Angels.
I have a finance degree from the University of Akron and was a financial planner for over 17 years.
In November of 2000 my Mother, who was a very independent person, had a brain bleed and was rushed to the hospital for emergency brain surgery. It was determined that the bleed was due to small cell lung cancer which had gone previously undetected.
For the next month I visited her in the hospital daily where she recovered and received rehabilitation. During one of my regular visits I was approached by the social worker and told that my Mother would be going home by the week's end. I was mortified. She could no longer take care of herself, she could not do steps and really she could not be left alone due to continued seizures due to the cancer now present in her brain.
The social worker gave me three brochures for nursing homes and assisted livings in our area. On a cold and blustery December day I started my search for my Mother's new home. I found a wonderful new assisted living that was willing to work with us as my Mother's diagnosis was terminal with a 3-4 month life expectancy. Hospice would also be involved at some point in the future.
My Mother lived 6 more months and she and I shared a lot of laughs and tears during that time. One of my biggest regrets was not being able to keep her at home.
From that point I started my quest to figure out how to help other families navigate these waters. I knew that I was not the only one in this position, caring for an elderly loved one while working and caring for my own family, and that there would be many more in the future.
After Mom passed, life settled down and I got back into my regular work/family routine. And as the good Lord would have it, I turned on my computer and started to read my work emails. There before my eyes was an email from "Visiting Angels – Senior Living Assistance." A new Cleveland office was making connections with area financial planners. As I continued to the Visiting Angels website, I spotted a box that said, "Want to own a franchise." I clicked it and the rest is history.
Kristy Bell
Leader of Operations
Hello, I am Kristy Bell. I have been with Visiting Angels since December of 2011. I started here to complete an externship for my business/accounting degree and am now the Leader of Operations. I came to Visiting Angels with a background as an STNA and have always wanted to help and care for people. Here at Visiting Angels, I am able do this by ensuring that the seniors in my community are receiving the highest quality care possible and that Caregivers in the area have a place to work where they feel supported, appreciated and empowered.
A fun fact about myself is that I am a video gamer.
As a Canton McKinley graduate, I love that I can give back to the community that has contributed to who I am today.
Ashley Groetz
Care Coordinator
Hello, I am Ashley Groetz and I am the Care Coordinator here at Visiting Angels. I came to Visiting Angels in February of 2020. I assist in the coordination of care for our clients, from the initial assessment to the start of care, to dropping in regularly to ensure all care plans are up to date and accurate. I grew up in the restaurant and catering business and have a background in event planning and management. I love what I do here at Visiting Angels and will be there for you every step of the way.
A fun fact about me is that I rescue elderly English Bulldogs outside of assisting in the quality care of our clients.
Should you or a loved one be in need of any assistance at home, please give me a call! I would love to meet you.
Shannon Ross
Talent Specialist
Hello, My name is Shannon Ross. I am the Talent Specialist here at Visiting Angels. I will be your connection for all employment opportunities.
I was born & raised in Canton, so I am very connected with our community. I have been in the healthcare arena for 25 years now. I know, I don't look old enough for that to be true. :) When I am not connecting you with a great job, I enjoy crafting, biking and hiking and attending live sporting events.
If you are ready for a position that has a real and meaningful impact on the life of a senior and not just a job, then Visiting Angels is the place for you! We have super flexible scheduling, great benefits and an employee-oriented environment. Call me at 330-497-5995. There is a senior waiting for you!
Maria Hall
HR Assistant
Bio coming soon!
Lori Wise
Office Coordinator

Hello! My name is Lori Wise and I am the Office Coordinator here at Visiting Angels Canton.
I have been in the Customer Service field for 10+ years and most recently I was the secretary for a local church. Coming from the Ministry field has helped me realize how much I enjoy helping people.
A fun fact about me is that I love to bake!
I joined Visiting Angels in December 2019 as the Office Coordinator. My Customer Service experience allows me to better get you in contact with the appropriate person who can assist you.
I look forward to helping you get your questions answered and directing you to the best Angel to assist you and your loved one.
Serving Canton, Massillon and other Areas in Stark County, Ohio
Visiting Angels Canton, Ohio
4905 Hills & Dales Rd NW
Canton, OH 44708
Phone: 330-497-5995