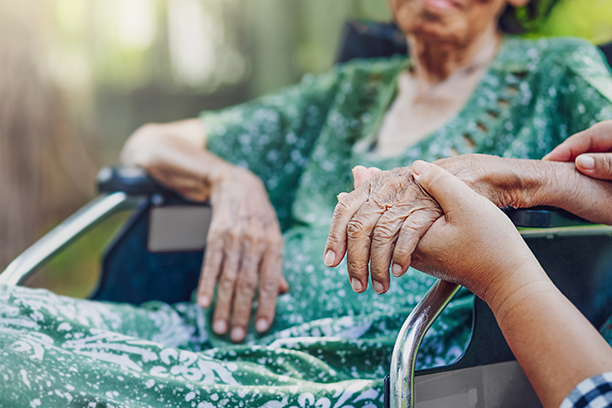 Home Care in Andersonville
When you start to feel concerned about the well-being of an aging loved one, you may wonder what options are available for their care. If your mind immediately jumps to suggesting that your loved one move to an assisted living facility or nursing home, it's important to know these aren't the only options. In fact, your loved one can stay right where they are and still receive care. The home care services offered in the Andersonville area by the caregivers at Visiting Angels® Chicago Lakeshore make it possible for elderly adults to continue living on their own terms in a safer, more comfortable way.
At Visiting Angels Chicago Lakeshore, we are focused on helping local seniors live life to the fullest. Our home care services are available throughout Chicago's neighborhoods including:
Andersonville
Bronzeville
Downtown
Hyde Park
Ukrainian Village
Bucktown
North Center
Streeterville
Gold Coast
We provide seniors with compassionate care that doesn't just make their lives at home easier, but also increases their enjoyment of day-to-day living, gives them confidence, and helps them look towards the future with optimism.
When you get started with our services, your family can have total confidence that your loved one is being cared for by someone who truly cares about their well-being. All of our caregivers have passed through our rigorous vetting process and have the patience, compassion, empathy, and respect to maintain our exceptional standards of senior care.
About Our Home Care Services in Andersonville
Every person is unique, and growing older doesn't change this fact. We strive to respect what makes our care recipients individuals and offer home care that is customized to their personal needs, preferences, and concerns.
Moreover, we know that aging comes with ups and downs, and care needs can change abruptly. That's why we are always flexible when it comes to adjusting care plans to ensure new needs are accommodated through the services we provide.
Examples of just a few of the ways our caregivers in Andersonville support seniors include:
Assisting with general mobility, walking, and transference
Taking care of light chores to keep the home environment tidy
Helping seniors remember their medication schedules
Preparing food, grocery shopping, and planning a healthy diet
Conversing with seniors and helping them engage in hobbies
Our Approach to Starting Home Care in Andersonville
You may feel overwhelmed by the thought of arranging care for a loved one who has until now been independent or whom you have helped on your own. We understand families often feel stressed before getting into the groove of a home care routine, and we are ready to help make the path to a positive care solution a smooth experience. That's why we've paved the way with just a few simple steps:
Step 1: An initial phone call
Just pick up the phone and call our local office. We can answer some basic questions and then arrange for you to meet with a care coordinator for a more detailed conversation.

Step 2: A free consultation
Our consultations are free of charge and don't have any strings attached. We use this time to learn more about the personal situation of potential care recipients, answer their family's questions, and start laying out a possible plan of care.

Step 3: Care planning
If you determine that our home care agency is right for your loved one, we'll take the next step of finalizing their care plan and schedule our care visits with your family's input.

Step 4: Caregiver selection
We believe that making the right caregiver match is crucial for the best care experience. By considering a wide variety of factors, we select a caregiver who will work well with your loved one's personality and lifestyle while offering the specific services they've requested.

Step 5: Constant communication
You'll always be kept in the loop about your loved one's care, and you can easily get in touch with us whenever you have a special request or want to make changes.
Understanding Companion Care
If your loved one could benefit from some basic assistance around the house and feels a bit lonely, companion care services may be best for them. These services include support with activities like meal preparation and running errands and are delivered by a compassionate caregiver who will engage in conversation with your loved one and build an authentic personal connection with them.
Understanding Personal Care
Personal care offers more advanced assistance for seniors with needs for direct physical support as they perform activities of daily living. Our personal caregivers are able to help seniors bathe, get dressed, and move safely around the home, all while bringing joy and positivity to their day.
Understanding Respite Care
When your duties as an unpaid family caregiver become so overwhelming that you have no time for yourself, taking a break is a must. We can arrange to give you time off through our respite care services. That way, you can recharge your batteries without feeling guilty or worried about your loved one's safety.
Understanding Alzheimer's and Dementia Care
Seniors with memory disorders have specific care needs that must be addressed through a carefully tailored care plan. We take the care recipient's diagnosis into account to create a forward-thinking plan that will enable them to remain at home for as long as possible while coping with the symptoms of Alzheimer's disease or any of the various forms of dementia.
Understanding Transitional Care
Transitional care helps elderly adults move from one environment to another. Our Ready, Set, Go Home transitional care program focuses on laying the foundation for a successful transition from a medical facility to the senior's home. We tailor care around ensuring seniors implement their physicians' directives and also provide crucial resources to help them avoid complications.
Understanding Palliative Care and End of Life Care
If your loved one is struggling with a dire health condition, palliative care can bring hope and soothing comfort that tends to their full range of needs. When seniors are transitioning into the end of life stage, end of life care gives families the opportunity to spend more precious time together.
Get Started with Home Care in Andersonville Today
Call (773) 394-4186 today to request a free consultation and get started with home care in Andersonville or a community in the surrounding areas!

Serving the Chicago Metro Area
Visiting Angels
CHICAGO LAKESHORE
2451 N Lincoln Ave #207
Chicago, IL 60614
Phone: 773-394-4186
Fax: 773-345-5000