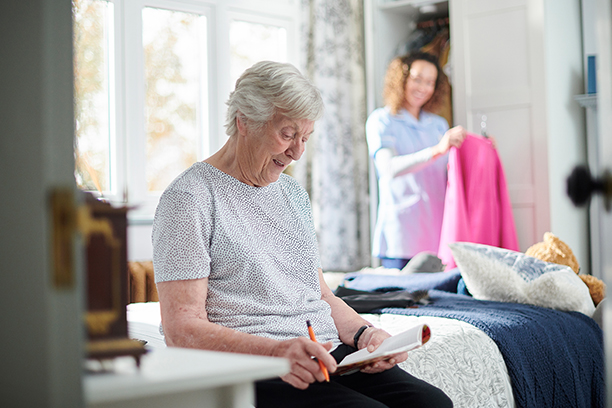 Our Character
Compassionate In Home Care from Visiting Angels Chicago Lakeshore
When looking for in home care in Chicago, families are always searching for an agency who can provide competent caregivers who are also compassionate and kind. Many agencies offer in home services, but Visiting Angels Chicago Lakeshore goes above and beyond with our commitment to customer satisfaction and dignified care. You can trust Visiting Angels Chicago Lakeshore to provide compassionate in home care for your loved one.
Visiting Angels Chicago Lakeshore provides non-medical in home care services to aging and disabled individuals in Chicago's Lakeshore neighborhoods, Jefferson Park, and Lincoln Park. Our caregivers provide their clients with the assistance they need in order to live happy, fulfilled lives at home. From help with day to day tasks, to more specialized care, We are available to assist your loved one with their in home care needs.
In Home Care from Trusted Professionals
Having faith in your loved one's in home care provider is so important. At Visiting Angels Chicago, we carefully screen each of our potential caregivers. By checking criminal history and backgrounds, looking at references and verifying previous employment, we can get a picture of a caregiver's work and personal history. We don't bestow the title of Angel companion on just any caregiver and when we do we want to make sure their values line up with ours. When you have in home care from Visiting Angels Chicago, you can trust your professional caregiver like you would a member of your own family.
At Visiting Angels Chicago, we simply cannot say enough good things about our in home care providers. Our clients feel the same. Our caregivers take their position as a home companion very seriously and look forward to being the highlight of your loved one's day. They enjoy spending time with your family member not only helping with activities of daily living, but playing cards, engaging in your loved one's favorite activities, and providing meaningful conversation. There is a reason our caregivers are referred to as "Angel companions". When you select us for in home care, you will see what we mean.
As part of our effort to ensure customer satisfaction, we provide continuous monitoring of our in home care. What this means for your loved one is that we will occasionally stop by during care hours, and regularly place phone calls to make sure your family member is pleased with their care.
Contact Visiting Angels Chicago Lakeshore to discover the many ways in which our compassionate in home care providers can help your loved one.
Serving the Chicago Metro Area
Visiting Angels
CHICAGO LAKESHORE
2451 N Lincoln Ave #207
Chicago, IL 60614
Phone: 773-394-4186
Fax: 773-345-5000