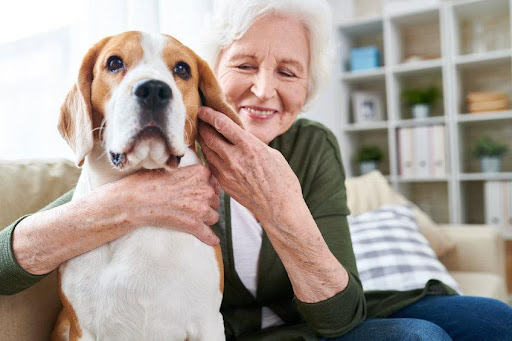 Pet Appreciation Day: The Health Benefits of Furry Friends
Pets have a lasting impact on our lives as cherished friends, and having them around can immediately affect daily health. Whether you're a pet owner or the friend or family of a pet owner, any time spent with furry friends has improved day-to-day moods and routines.
Pet Appreciation Day is approaching this spring in early April, and it is a chance to explore the health benefits of being around our animals. Grab your furry friend and learn about what makes this bond so special.
Easing stress and depression
Possibly the most prominent and noticeable effect that pets have on us is immediately lifting our mood. The companionship we experience through this unique type of friendship can cause us to smile, but it affects our brain chemistry. Studies show that petting a dog releases oxytocin in the brain, the love hormone, reducing stress and lowering anxiety almost instantly.
Several aging adults are also struggling with chronic conditions or disease, and pet therapy has been a proven beneficial option to ease constant worrying. One study found that patients receiving chemotherapy and other cancer treatments reported better emotional well-being and quality of life after visits from a therapy dog.
Encouraging healthy habits
Pets require effort and need to be taken care of, and having a set routine of playtime, exercise, and relaxation will help to keep you in a more active, healthy routine. Knowing your pet will benefit from some time outside or a long walk is a great way to keep yourself reaping those benefits.
Having that friend at home who depends on you will also help you depend on yourself. Taking care of yourself is always essential, but the extra motivation of knowing your pet needs you will encourage you to be better to yourself. Caring for any other living thing can increase feelings of being needed and wanted and can help to stave off loneliness and isolation in older adults who are living alone. Any pet can give you this feeling, even if you are more excited about the idea of a pet bird than a pet dog.
Expanding your social circle
Dogs, in particular, are a great way to talk to others outside of our regular social groups or families. Dog parks can be a fun place to get exercise, get some fresh air, and let your dog burn off all their energy while you meet other locals who come to the park regularly. Dogs are constantly getting us out of the house, and they may offer a chance to engage with members of your community that you haven't met yet.
If you are a pet owner, you know that sharing pictures and stories of pets is just as common as sharing pictures and stories of grandchildren. Even when your pal is not with you, they can often come up in conversation as a common interest with new people. Sharing love for pets can be an immediate bond with strangers who may become friends.
Visiting Angels caregivers are available to visit you in-home to assist with daily tasks or help manage chronic conditions to remain in the best health you can. An in-home caregiver means that you can receive high-quality assistance for any aging concerns or limited mobility to remain in place with your pets instead of relocating out of your home. Our caregivers are often another source of trusted companionship aside from pets and can aid your overall quality of life. Visiting Angels Cincinnati West offers caregivers on the West side of the city. Reach out today to learn more at (513) 598-6770.