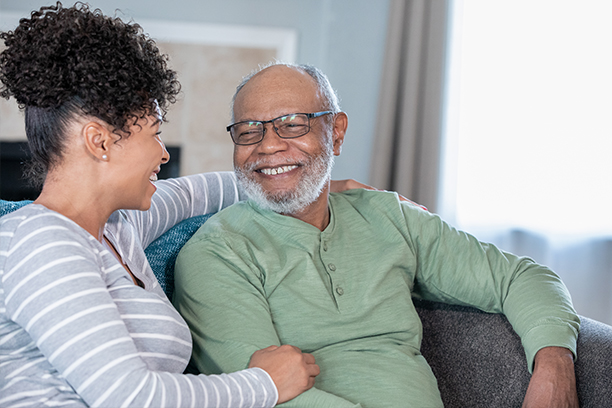 HomeTimes Angels Cook Book
Your Independent Senior Living Resource For Aging in Place
Visiting Angels West Cincinnati's monthly newsletters feature great recipes for you or your loved ones, aging in place. Check out our featured recipes below!
May 2023 Recipes
What you'll find in this month's issue:
Zucchini and Ground Beef Skillet
Air Fryer Grilled Peaches

Zucchini and Ground Beef Skillet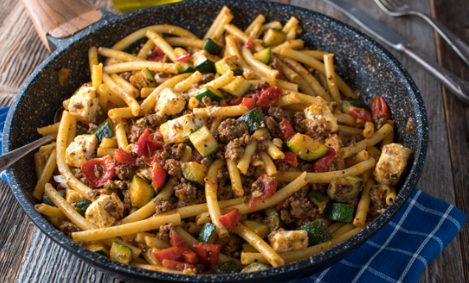 1 pound lean ground beef
1 medium sweet onion, finely diced
1 (14.5 ounce) can Italian-style stewed tomatoes
1 (8 ounce) package sliced white mushrooms
1 (6.5 ounce) can tomato sauce
1 (6 ounce) can sliced black olives
2 cloves garlic, minced
salt and ground white pepper to taste
4 medium zucchini
1 (8 ounce) package shredded sharp Cheddar cheese
Instructions:
Heat a large skillet over medium-high heat. Cook and stir beef and onion in the hot skillet until beef is browned and crumbly and onion is translucent, 5 to 7 minutes. Drain and discard grease.
Crush stewed tomatoes into smaller pieces in a bowl, then pour into the skillet. Stir in mushrooms, tomato sauce, olives, garlic, salt, and pepper. Let simmer, uncovered, until liquid reduces, 20 to 30 minutes.
Slice zucchini lengthwise, then cut crosswise into 1/2-inch slices. Add zucchini to beef mixture; cover and cook until zucchini is firm yet tender to the bite, 5 to 7 minutes. Stir in Cheddar cheese; cover and cook until melted, 3 to 4 minutes.
Nutritional Information
Serving Size: 4 servings • Calories: 589
www.allrecipes.com/recipe/277012/zucchini-and-ground-beef-skillet/
Air Fryer Grilled Peaches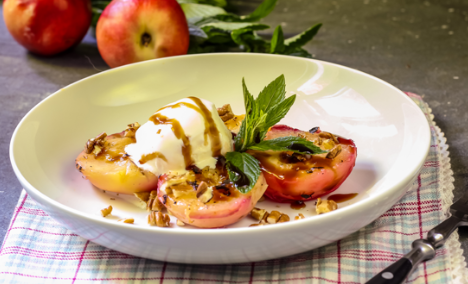 ¼ cup quick-cooking oats
2 tablespoons melted butter
2 teaspoons brown sugar
1 teaspoon ground cinnamon
1 teaspoon vanilla extract
3 medium peaches, halved and pitted
(optional) vanilla ice cream
Instructions:
Preheat the air fryer to 350 degrees F (175 degrees C).
Combine oats, butter, brown sugar, cinnamon, and vanilla in a small bowl. Set aside.
Spoon out some of the flesh of the peaches. Place peaches skin side up into the air fryer basket. Air fry for 5 minutes. Turn peaches over and spoon 1/2 tablespoon of the oat mixture into each cavity. Air fry until oats are golden brown and crispy, 2 to 3 minutes more.
(Optional) top with vanilla ice cream.
Nutritional Information
Serving Size: 6 servings • Calories: 54
www.allrecipes.com/recipe/8468500/air-fryer-grilled-peaches/
Past Recipes
Healthy Pasta Primavera

The Best Lemon Bars

Cape Cod Cocktail Meatballs

Sufganiyot

Download December 2022 Recipes

Slow Cooker Lasagna
Cinnamon Swirl Bread

Download November 2022 Recipes

Chicken Pot Pie
Pumpkin Whoopie Pies

Baked Mushroom Risotto

Iced Pumpkin Cookies

Download September 2022 Recipes

Smothered Chicken with Spinach

Rustic Fall Fruit Tart

Shrimp Tacos with Cilantro-Lime Creama
Peaches and Cream Pie
Savory Mushroom, Onion, & Bacon Tart
Creamy Baked Pairs
Five-Ingredient Red Curry Chicken
Lemon Square Bars
Serving the Communities on the West Side of Cincinnati, Oh
Visiting Angels
WEST CINCINNATI, OH
9019 Colerain Ave
Cincinnati, OH 45251
Phone: 513-598-6770