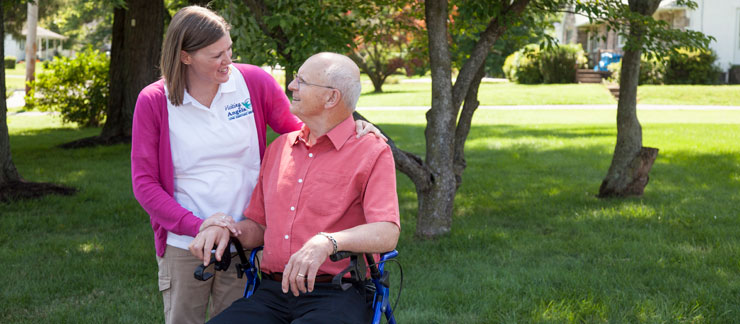 How to Avoid Senior Isolation and Loneliness
Many age-related concerns can make getting out and about difficult for elderly adults, a situation that can lead to senior isolation. Mobility limitations, memory disorders, and even incontinence are all issues that frequently prevent older individuals from engaging in the types of social activities they once enjoyed.
As seniors get out of the house less frequently, they may experience feelings of loneliness and isolation, which not only have a negative impact on their mental well-being, but can also pose serious consequences for their physical health.
According to a recent study published in The Journal of Primary Prevention, senior isolation can result in a number of detrimental health effects in elderly adults. From increased risk for all-cause mortality to dementia to a greater likelihood of suffering a dangerous fall, these effects are much more serious than many people realize. That's why it's so important to understand what steps you can take to prevent senior isolation from affecting your loved one.
Below, we've laid out just a few of the ways you or a professional care provider can help a loved one avoid the circumstances that result in senior isolation.
Manage Incontinence Issues
It's understandable for seniors coping with incontinence to feel hesitant to leave home. However, there are plenty of methods that can be used to make incontinence manageable outside of the house, including medications and access to the appropriate supplies.
If incontinence is an issue for your loved one, do your best to show them this issue doesn't have to be embarrassing and shouldn't prevent them from living their best life. Consulting with their physician is also important as incontinence could be the sign of underlying health issues.
Test Hearing and Vision
When hearing and vision issues go undiagnosed and untreated, social situations become less enjoyable for elderly adults. Encourage your loved one to have their hearing and vision checked yearly, so they can fully engage in and enjoy conversation without becoming distracted.
Increase Access to Transportation
For many elderly adults, driving is not an option, and public transportation can be unsafe, uncomfortable, or inconvenient if they are dealing with mobility or memory issues. Without a means of getting around, these individuals often end up stuck at home even when they'd like to be out shopping or socializing.
Setting up a family-wide rideshare system can help ensure your loved one has frequent and reliable transportation and enables them to maintain a greater degree of independence. If this isn't an option, you can always turn to a professional care provider like Visiting Angels®. Our caregivers are ready to offer transportation for running errands, attending doctors' appointments, and participating in social events.
Make Mealtimes Social
Dining with others is part of the human experience. Shared mealtimes help seniors feel more like themselves and give them a scheduled event to look forward to. Whether at a family member's home, with a church community, or with a friend group at a local diner, these kinds of meals offer an important social connection that enriches the lives of people of all ages.
In between meals with friends and family, a caregiver can step in to help your loved one prepare meals at home and share these moments with them in a friendly atmosphere. Our caregivers can prepare meals and snacks according to their care recipients' dietary needs and easily manage post-meal clean-up, all while maintaining cheerful conversation.
Engage in Meaningful Conversation
Sometimes people just need to be heard, and seniors are no exception. However, all too often elderly adults lack a conversation partner who is willing to show them the patience and respect they deserve. As a family caregiver, it's important to remember your loved one may simply want to talk, and could desperately need a listening ear and a shoulder to lean on.
If you're busy managing your loved one's care needs while also juggling your professional commitments and personal priorities, you may worry about your loved one's state of mind. Although you want to be there for them as much as possible, you don't always have the emotional bandwidth to be the patient companion they're looking for.
Connecting them with a professional caregiver from Visiting Angels is a great way to ensure they always have someone to turn to for social and emotional support. As part of our care philosophy, we tend to the needs of the whole person. We understand how important it is for seniors to avoid isolation at all costs. We're eager to provide the compassionate care and stimulating conversation they need to maintain their quality of life throughout the aging process.