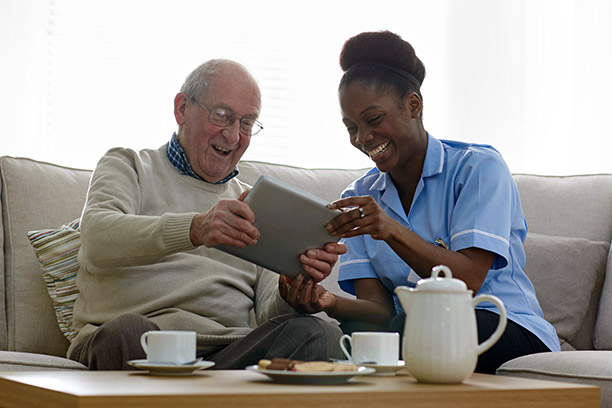 Alzheimer's Care In Manitou Springs, CO
Does your loved one need Alzheimer's Care? Visiting Angels Manitou Springs will provide the care your loved one deserves.
What's nice about Visiting Angels Manitou Springs Alzheimer's care service is that we bring care into your home. Keeping our client in the comfort of their own home and a familiar surrounding is because we know how traumatic it is for the elderly client to be uprooted and then planted in an unfamiliar place. With our Alzheimer's care services, you are assured that proper care will be provided to your loved because our caregivers are professionally trained. With this goal and service, you will also have the peace of mind that your beloved is in good hands.
We not only provide Alzheimer's care, we also have a whole gamut of care programs that specialize in memory disorders which include dementia care services.
What Is Visiting Angels Manitou Springs Alzheimer's Care?
After hearing the news that your loved one is battling Alzheimer's, we know how heart breaking that is. Coupled with the stresses of life and juggling the work-life balance, you are faced with the choice of getting care for your loved one. This is especially true when the distance is added to the equation. Why don't you get the services of an in home care agency? Know that moving to a new place can trigger anxiety, agitation, confusion, and stress in the older adult. Thus, the best way to go about this is to hire an in home care specialist from Visiting Angels.
Through Visiting Angels, you are ensuring that your loved one stays happy in familiar surroundings but with our competent and compassionate caregivers on hand. Our care program also comes with after-hours line, routine check-ups, and regular monitoring to ensure that your loved one is in good hands.
Getting Started
If you have doubts, call us and schedule a free meeting and even assessment to better find out if Alzheimer's care is the right for your beloved. You can pick the time and place that's most convenient for you.
We assure you that our services are customized to each client with Alzheimer's depending on their routine, personality, and symptoms. This way, we can find the best approach to working with you and your loved one.
Serving Colorado Springs Metro Area
Visiting Angels
COLORADO SPRINGS, CO
3720 Sinton Rd #202
Colorado Springs, CO 80907
Phone: 719-282-0180
Fax: 719-596-4466