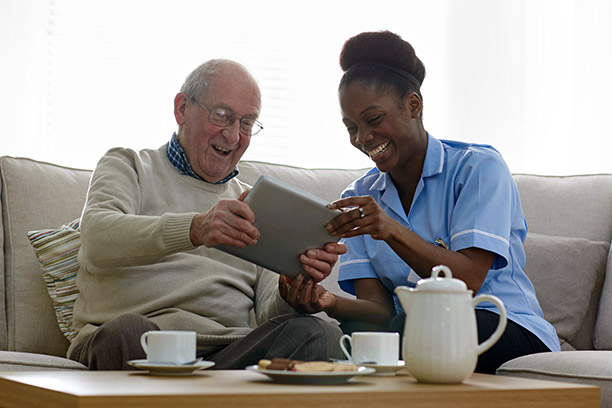 Alzheimer's Care Visiting Angels Columbia, MO
The Benefits of Alzheimer's Care
If your mom or dad is suffering with Alzheimer's, chances are you understand the importance of reliable Alzheimer's care. The obvious benefits are having someone to keep your loved one safe and provide a respite for family caregivers. There are some additional benefits of Alzheimer's care from Visiting Angels Columbia which you may not have realized.
Alzheimer's Care Helps Manage Symptoms
Providing care for someone with Alzheimer's involves management of symptoms. Alzheimer's care providers from Visiting Angels Columbia, MO are adept at managing the behavioral symptoms of the disease. One method for doing this is by communicating in ways which support independent functioning and decrease behavioral problems. A professional caregiver is knowledgeable about the best ways to communicate and interact with your loved one to accomplish these goals.
Another way to manage behavioral effects of Alzheimer's is by involving your loved one in structured therapeutic activities. Alzheimer care providers from Visiting Angels Columbia, MO are happy to communicate with our family member's physicians to coordinate our non-medical care with their medical directives. Your caregiver can help with appointment reminders and transportation to visits. We can also assist with recommend activities at home.
Alzheimer's Care Supports Safe Living at Home
Making sure your loved one's home supports safety and functionality will also help lessen unwanted behaviors. During your initial in-home visit from Visiting Angels, our team will provide a complimentary safety and fall prevention assessment. We can alert you to any areas which might be cause for concern and give you tips on how to make things more suitable for a struggling family member.
Alzheimer's care from Visiting Angels Columbia can also help your parent or family member maintain their overall health and wellness. A professional caregiver can help monitor diet and prepare healthy meals. We can also assist your loved one with walking and physical activities where allowed. Angel companions can provide medication reminders and stay alert to any troubling changes in your family members health and behavior. The companionship our loved one receives also provides a boost to emotional wellness and combats depression which is so often found in the elderly.
The Alzheimer's care providers from Visiting Angels Columbia can also offer support to family caregivers. We understand the challenges you face when caring for a family member. Having an empathetic professional on your team can take some of the weight off your shoulders. Through education and support we can help you provide knowledgeable care and avoid caregiver burnout.
To start receiving the Alzheimer's care and support your family needs, call
Visiting Angels Columbia, MO
today.
Serving Columbia, Jefferson City and All the Surrounding Areas
Visiting Angels
COLUMBIA, MO
2718 Forum Blvd #3A
Columbia, MO 65203
Phone: 573-445-6340