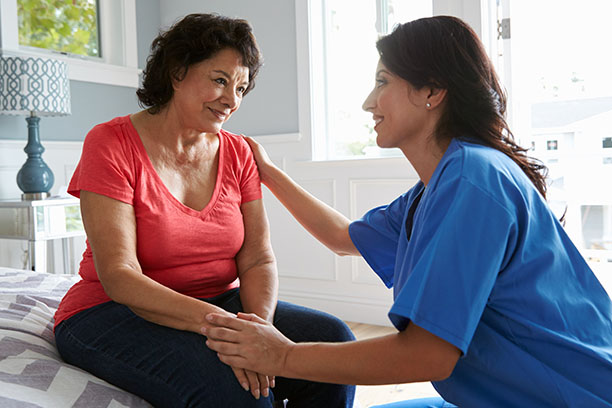 Dementia Care in Kirkland
If you have an elderly relative who has dementia, their safety and well-being are probably a top concern. Caring for those with memory disorders is a difficult task, and families often struggle to keep up, especially as the disorder reaches later stages. For these reasons, Visiting Angels® Eastside offers trusted in-home dementia care for senior citizens around Kirkland and the surrounding areas. Our caregivers provide experience, compassion, and thorough support that helps you and your loved one handle the various challenges of dementia.

Why Choose In-Home Dementia Care in Kirkland
At Visiting Angels Eastside, we provide crucial assistance for those with dementia within the comfort of their own home. This is vital, since it gives senior citizens more comfort and familiarity, and allows them to live a more independent life much longer than they'd be able to without help.
In fact, most families choose our in-home dementia care services specifically to postpone or even prevent the need for a nursing home in Kirkland. These facilities are not only very expensive, but can cause loneliness, confusion, and a number of other harmful emotional problems. By giving your loved one support and care in their own home, our care services keep them in an environment where they feel safe, familiar, and comfortable.
Dementia Care in Kirkland with Visiting Angels Eastside
The goal of our dementia care is to give your loved one the highest possible quality of life. Our caregivers provide a number of crucial services including reminders for medication, walking assistance, help running errands, and supplying friendly conversation. We customize every care plan to make sure your loved one gets the exact right services on a schedule that makes sense.
Our care is delivered by professional people who bring kindness, patience and positivity to each person they work with. We know just how to help your loved one deal with the anxiety and confusion that often come from memory lapses. To help make our service as successful as possible, we encourage families to interview our selected caregiver before things get started. This way you can determine if there's a strong enough fit and if your loved one will enjoy spending time with this person.
Our dementia care services are available throughout Kirkland, Redmond, Bellevue, Sammamish, Woodinville, Bothell, Kenmore and Medina. To start giving your elderly loved one the best in-home care, contact Visiting Angels Eastside today.
Serving Eastside, North Seattle and the Surrounding Areas
Visiting Angels
EASTSIDE SEATTLE, WA
12020 113th Ave NE Bldg C #180
Kirkland, WA 98034
Phone: 425-828-4500
Fax: 425-828-4505