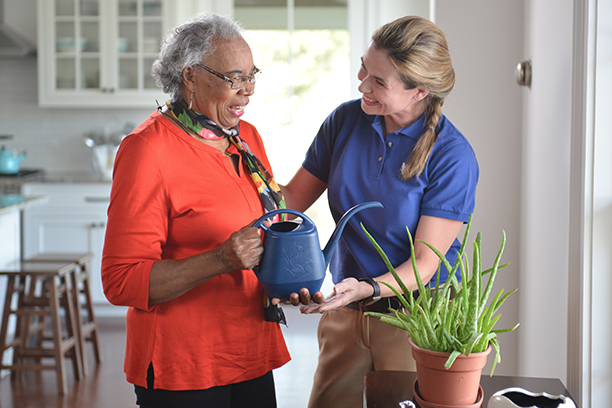 Transitional Care in Kirkland Reduces Hospital Readmissions
Ready, Set, Go Home with Transitional Care
For a variety of reasons, many seniors struggle to successfully return home after a stay in the hospital. With our transitional care for seniors in the Kirkland area, Visiting Angels® Eastside provides the flexible, one-on-one, in-home support your loved one needs to avoid readmission to the hospital. Our kind, loving, and attentive support includes help with memory issues, mobility and fall prevention, light housework, bathing assistance, and much more.
Why Readmissions Occur
A stay in the hospital can be exhausting, both mentally and physically. Without the right plan to ease your loved one's transition back home, they are likely headed back for another stretch in the hospital. Here are 4 major reasons why hospital readmissions occur:
Difficult adjustments. When presented with a new illness or injury, many seniors struggle to make the appropriate adjustments on their own.
Disrupted routine. It can be difficult for a lot of people to get a good sleep while in the hospital. So many seniors return home exhausted and mentally drained, leading to poor self-care.
Memory issues. If your loved one struggles with any memory issues, it may be difficult for them to follow along with any medical advice, including medication schedules. We will provide medication reminders and other memory support to help them navigate this stressful time.
Failure to follow up. For many ailments, missing a follow-up visit with their doctor can be costly. Seniors often struggle to keep up with appointments, especially when they are physically weakened by a recent hospital stay. It can really help to have someone around to provide safe transportation and guidance.
How Our Transitional Care in Kirkland Helps Seniors Remain at Home
With trusted, one-on-one support for local seniors, Visiting Angels Eastside can help your loved one avoid the dreaded return trip to the hospital. We offer our home care services throughout Kirkland, Bellevue, Redmond, Woodinville, Bothell, Kenmore, Medina, and the surrounding areas.
To discover all the benefits of our transitional care for Kirkland area seniors, call Visiting Angels Eastside and set up your no-cost initial care consultation today.
Serving Eastside, North Seattle and the Surrounding Areas
Visiting Angels
EASTSIDE SEATTLE, WA
12020 113th Ave NE Bldg C #180
Kirkland, WA 98034
Phone: 425-828-4500
Fax: 425-828-4505