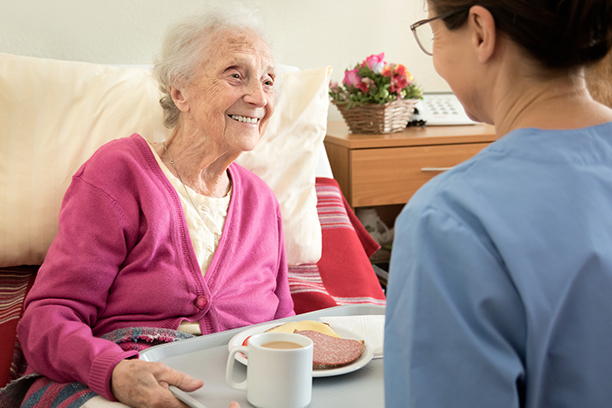 How Transitional Care in Evansville Reduces Hospital Readmissions
Ready-Set-Go Home with Transitional Care
A hospital stay can be a stressful experience for many people, including older adults. However, seniors have a high rate of being readmitted to the hospital. About twenty percent of Medicare patients are readmitted to the hospital within thirty days of being discharged, according to the Centers for Medicare and Medicaid Service (CMS). That's why it's critical that seniors receive high-quality transitional care after a hospital discharge. At Visiting Angels® Evansville, we aim to deliver such care for seniors in Evansville, Mount Vernon, Boonville, Princeton, Henderson KY, and the surrounding communities through our transitional care program.
Transitional Care: Addressing the Causes of Readmissions
A variety of different factors can contribute to a senior's readmission to the hospital. However, there are a few factors that are especially common among older adults. These include the following:
Missing critical follow-up medical appointments
Taking medication at the wrong times or in the wrong dosages
Lack of follow-through with the doctor's specific discharge directions
Fatigue and exhaustion from disrupted routines during the hospital stay
Poor management of an illness or disease at home
Our Approach to Transitional Care in Evansville
At Visiting Angels Evansville, we work to prevent problematic behaviors like these through our transitional care program for seniors in the Evansville area. We use a three-pronged approach in order to provide comprehensive transitional care:
Step 1: Care in the hospital. We take the time to arrange a client's transitional care plan before he or she is discharged from the hospital in Evansville. First, we'll meet with the hospital discharge planner in order to provide the most comprehensive care possible. At Visiting Angels Evansville, we also give our care recipients a copy of "Ready-Set-Go Home," our transitional care and discharge planning guide. This guide helps get clients mentally prepared for a successful transition.
Step 2: Care at home. We provide support and assistance for clients back at their homes in Evansville, while also monitoring their behavior in order to prevent issues that could result in a readmission.
Step 3: Support from our office. Our staff at Visiting Angels Evansville uses a variety of specialized tools and resources to track our care recipients' progress and provide our caregivers with additional support when needed.
Are you ready to help a loved one in Evansville get started with transitional care? Call Visiting Angels Evansville today to hear more about our transitional care program in Evansville, Mount Vernon, Boonville, Princeton, Henderson KY, and the surrounding communities.
Serving Evansville, Newburgh and the Surrounding Areas in Indiana
Visiting Angels
EVANSVILLE, IN
123 NW 4th St #312
Evansville, IN 47708
Phone: 812-618-0032
Fax: 812-618-0080