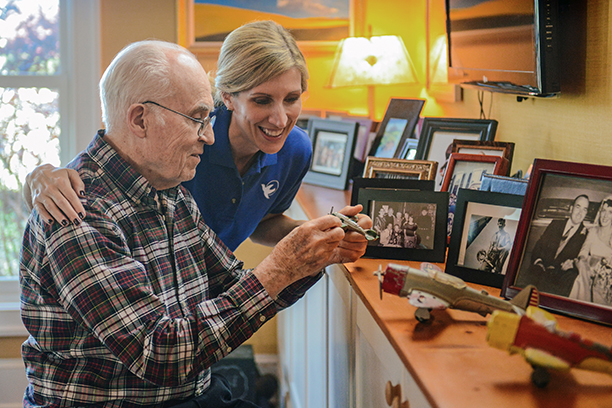 Types of Senior Care in Evansville
Adding senior care is a terrific way to ease and enrich a loved one's daily life. At Visiting Angels® Evansville, we do that in all kinds of ways, from keeping them company at home to transporting them on errands. Our Life Care Navigation™ suite of services offers options from the casual companionship to intensive care which can be tailored to meet your loved one's individual needs.
Our outstanding caregivers help seniors in Evansville, Mount Vernon, Boonville, Princeton, Henderson KY, and the neighboring communities to continue living at home despite the obstacles of old age, illness, or disability through compassionate senior care.
Senior Care Programs for the Evansville Area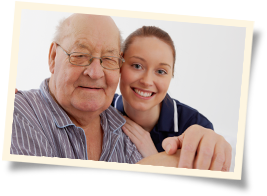 ALZHEIMER'S CARE
This senior care program from Visiting Angels Evansville offers additional care and support tailored to the unique needs of memory loss so that seniors with Alzheimer's can continue to age at home.
COMPANION CARE
Life is brighter for seniors who can look forward to visits from a cheerful and friendly companion caregiver whose company they genuinely enjoy.
DEMENTIA CARE*
Providing medication reminders and compassionate assistance with every day tasks are just a few of the ways that our caregivers help dementia sufferers lead more comfortable and dignified lives at home.
There is no more difficult time for a family than when a loved one is nearing the end of their life, during which our care can provide enormous solace and comfort for both seniors and their loved ones.
PALLIATIVE CARE*
Through this senior care program, our caregivers at Visiting Angels Evansville can offer pain relief, administer medications, and provide general assistance to keep those with terminal illnesses comfortable and calm.
PERSONAL CARE
Having a companion caregiver closeby to provide dignified, hands-on personal care help with everyday tasks can help improve your loved one's hygiene, nutrition, and overall self-esteem.
READY-SET-GO-HOME — AVOIDING HOSPITAL READMISSIONS
Helping seniors follow-through with discharge instructions and preventing re-injury or strain are some of the ways that this senior care program helps those in Evansville avoid an untimely return to the hospital.
Seniors are kept safe from slips, falls, bumps, and bruises through a helpful combination of monitoring and mobility support from their companion caregiver.
SOCIAL CARE PROGRAM
For Evansville elders who want to stay up to date with modern technology, this senior care program can help them to do exactly that in a fun and engaging way.
Book your free, in-home consultation on senior care by calling Visiting Angels Evansville today.
Serving Evansville, Newburgh and the Surrounding Areas in Indiana
Visiting Angels
EVANSVILLE, IN
123 NW 4th St #312
Evansville, IN 47708
Phone: 812-618-0032
Fax: 812-618-0080