Choosing Elderly Care in Bloomfield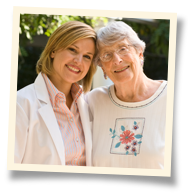 At Visiting Angels® Farmington, we help seniors in Bloomfield make the most of their golden years, with regular and thoughtful elderly care services when they're needed. While we support our clients with everyday physical tasks, we also take great care to ensure their emotional and mental well-being is looked after, too. This compassionate, comprehensive care helps seniors throughout San Juan County to flourish with greater comfort and dignity.
We know that most seniors, if given the choice, would prefer to stay at home and live independently instead of going to a retirement facility. We can help to make that possible for your loved one with dedicated support from a trusted caregiver, adaptive care plans, and input from you and your family.
About Our Approach to Elderly Care in Bloomfield
Every client we support has different needs and different preferences. At Visiting Angels Farmington, we know that a personalized approach to elderly care can make all the difference. For seniors in Bloomfield, it's our mission to provide care that isn't intrusive, but that integrates seamlessly into their existing schedule, their habits, and their preferences.
To get started, we offer one-on-one consultations with you and your loved one. This in-person, in-home meeting allows you and your family to get to know our team better, to see what care options are available, and to discuss what your loved one requires. For us, it's an opportunity to assess your loved one's situation, and their condition, to make sure the care we provide can anticipate any current or future needs.
When it comes to senior care, we know that things can change very quickly and with little notice. Our care plans are designed to update just as quickly, so that if your family member has new care requirements or needs more frequent support, we can meet those needs.
Visiting Angels Farmington Proudly Serves Seniors in San Juan County
At Visiting Angels Farmington, our caregivers are the bedrock of our compassionate, comprehensive elderly care services. We recruit top care candidates throughout San Juan County who can provide a higher caliber of care to seniors throughout the area:
Bloomfield
Farmington
Aztec

Kirtland
Your loved one's caregiver is selected based on personality and compatibility. We always make sure that caregivers and clients are well-matched, ensuring care services that truly support your family.
Learn more about our customizable elderly care services in Bloomfield and San Juan County, and allow us to help you navigate the process. To get in touch with the care professionals at Visiting Angels Farmington, call our office today.