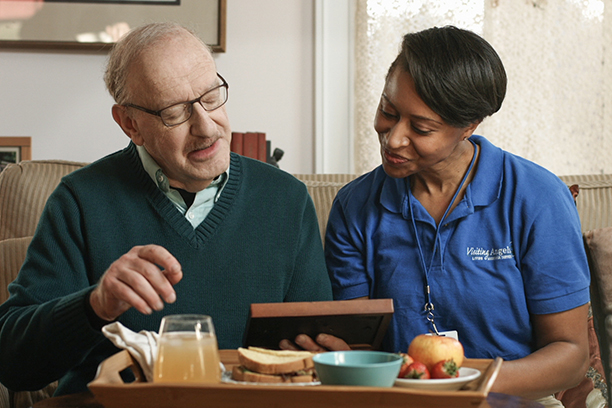 Why Choose Visiting Angels®  Farmington for Elder Care Assistance?
When you have an aging loved one at home, they're constantly on your mind. Are they eating enough? What if they fall during the day? How will they get to their many doctor's appointments or out to run errands if you're not there? Even if you provide care and help on a regular basis, you can't be available 24/7. That's where elder care assistance from Farmington, NM's trusted choice comes in.
At Visiting Angels Farmington, we can be your partner in elder care assistance for your loved one. Whether you need us there one day a week, or full-time every day, our non-medical services are the solution you've been searching for.
Elder Care Assistance on Your Schedule
One concern with elder care at home is whether a loved one will have to change their routine. But with elder care assistance from Visiting Angels Farmington, we operate on your loved one's schedule, not ours. That means they maintain total control over when they wake up, bathe, eat, and run errands. We want to respect their routine and their independence. We're simply there to provide assistance and support when they need it.
We are Fully Bonded, Licensed, and Insured
When you're researching your elder care assistance options, it's vitally important to ensure the Farmington agency you do choose is one you can trust. With Visiting Angels Farmington, you never have to worry. We are fully bonded, licensed, and insured, so you can have complete confidence in the services we provide.
Regular Check-ins Mean Top-Quality Care
At Visiting Angels Farmington, we're dedicated to not only meeting your loved one's needs today, but into the future. That's why we will regularly check in via phone and at-home visits to monitor the care they're receiving and ensure we're meeting their needs. If, at any point, their condition or situation changes, we can quickly adjust their care plan.
Custom Elder Care Assistance
At Visiting Angels Farmington, we know that every client we serve has different needs. That's why we personalize our elder care services and design custom care plans for each and every one. With them, we take into account scheduling demands, personality, and the level of physical, emotional, and social support required. As a result, you can rest easy your family member is receiving the exact right level of care, whether it's part-time, respite care, bedside assistance, or support at an assisted living facility.
To learn more or get started, please call Visiting Angels Farmington today for a no-cost consultation. Our elder care assistance services are available for families in Farmington, NM, as well as Aztec, Kirtland, Shiprock, and the surrounding communities.
Serving Farmington, Aztec, Bloomfield, Navajo Dam, Flora Vista and Surrounding Areas
Visiting Angels
FARMINGTON, NM
1515 20th St #F
Farmington, NM 87401
Phone: 505-516-1150