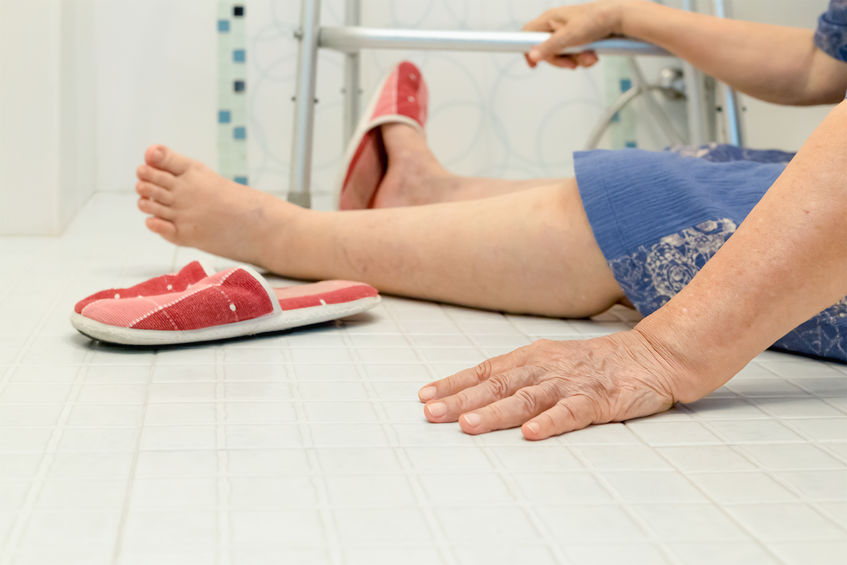 3 Fall Hazard Scenarios and Prevention
One in four elderly Americans falls each year, and one in five of those falls cause a severe injury. As we age, the chances of falling increase mainly due to a combination of factors instead of just one or two common characteristics. Medication, eyesight, muscle strength, overall health, and bone density all play a role, and falls can be attributed to one or several.
Because there isn't a one-size-fits-all rule for fall hazards, caregivers may have more difficulty managing and preventing fall risks. Experienced senior caregivers like the team at Visiting Angels Flagstaff and geriatricians suggest looking at the situations that could lead to a fall, mitigating the factors in each situation with preventative measures, and making a plan in case a fall happens. Learn more about the main conditions in which a fall could be possible and ways to respond in the event of a fall emergency.
Identifying Fall Hazard Conditions
Falls are different for every senior, and even when a caregiver identifies a fall hazard, an additional factor may trigger the next. To better clarify the possibilities of a fall, our Visiting Angels Flagstaff caregivers divide them into three categories: medical-based risks, environmental risks, and occasion-based risks.
Medical-Based Risks
When seniors take medicine or combinations of medicine, side effects are possible. The more regular prescriptions an aging family member has, the bigger the chance these medicines could play a role in a fall. As a caregiver, you may not be apprised of every side effect of every type of medication. Still, the Visiting Angels Flagstaff team has found it helpful to have a baseline of what medications your loved one takes and an overview of how they've tolerated them in the past. Speaking with your aging loved one's physician will provide more feedback on how medications can affect balance, sight, blood pressure, and strength.
Once you understand how medications may affect your senior family member, you can minimize risks based on potential side effects. For instance, if weakness is a problem, add railings to give them stability. If vision is an issue, add lights to their living space and keep the area clear of clutter. These risks are highly dependent on how your loved one feels.
Environmental Risks
Environmental risks consist of the world around us filled with fall hazards at every turn. Well, it might not be that dramatic. Still, environmental risks, including ice or slippery flooring, cluttered paths, unsecured furniture or seating, or uneven sidewalks, are significant for unexpected fall hazards.
Environmental risks, along with medical-based risks, are a recipe for a dangerous fall. For instance, an uneven sidewalk may be a challenge for some seniors. If they also have blurry vision resulting from a medical issue, the same sidewalk can become a trip hazard in a heartbeat. To help protect your senior loved ones from environmental risks, observe their living space and identify potential problems: obstacles, dim lighting, electrical cords blocking walkways, or glass tabletops that could appear invisible.
Occasion-based Risks
These risks have triggers that can be both unexpected and spontaneous, making them much more challenging to manage. Occasion-based risks could be health-related – a drop in blood pressure or blood sugar or overexertion – or caused by a sudden movement, such as a cat walking in front of them.
Occasion-based risks are more difficult to remove the risk, but it's not impossible. Helping your loved ones manage their medications to prevent drops in blood pressure or helping with daily tasks to avoid trips, slips, and exhaustion make a difference.
What To Do When a Senior Falls
Most falls end up with minor scrapes or bruising, but more significant injuries are possible. When your loved one has experienced a fall, the first thing you should do is comfort them and keep them in a safe position until you know they're able to get back on their feet. Our Visiting Angels Flagstaff team always checks for bleeding, sprains, or broken bones and asks if our senior clients feel any pain.
If your loved one seems unharmed other than a bruise or scrape, help them get up slowly. Stop if they recognize any pain or seem lightheaded or confused. Remember, your job is to support them as they get up, not pull them up or support their weight.
Broken bones or profuse bleeding require medical attention. Call 911 immediately and keep your loved one calm and warm until help arrives.
Preventing Future Falls
By understanding the differences in fall scenarios, you should feel more equipped to address your senior loved one's fall hazards, especially if you're able to pinpoint the cause of a past fall. For more help with learning the basics of all prevention, check out our Visiting Angels Flagstaff Fall Prevention Program. With these tips, your aging loved one can stay active for longer.
Visiting Angels Flagstaff Services
As experienced providers, the Visiting Angels Flagstaff team has deep knowledge of fall hazards and how to prevent them. Our compassionate care allows your senior loved ones to live in their home longer, living with dignity in the place where they feel most comfortable. It's an honor to provide care to our Flagstaff seniors! Visit our website or call us at 928-220-4100 to learn more and schedule a time to talk with our specialists.