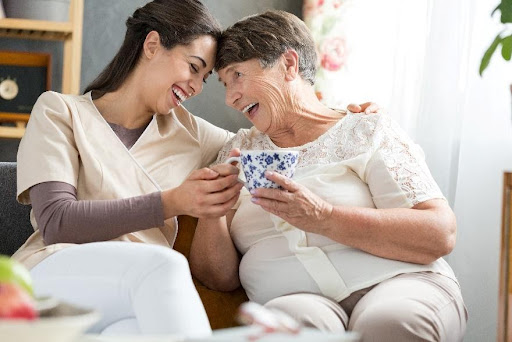 3 Gifts Your Senior Caregiving Job Gives You
It's the season of giving! To most, this means giving beautifully wrapped presents or freshly baked cookies, but for those of us who have chosen a career in senior caregiving, giving takes on an entirely new meaning.
We often give our clients our time, energy, and patience to provide them with the independent life they deserve in the safety and comfort of their own homes. Still, as our Visiting Angels Flagstaff, Arizona, team can confirm, the job gives us far more than we could provide to our position.
This season, we're sharing three of the best gifts our career in senior caregiving has added to our lives.
Why Choose a Career in Senior Caregiving?
Senior caregiving can be difficult, exhausting, and humbling – but never dull. Each member of our team came into the industry in different ways and for different reasons. After helping their families care for senior loved ones, several joined the group. Others have begun their journey in preparation for a career in nursing or other health care professions. Many joined because they love spending time with seniors in the community (and they can get paid to do it!).
The Gifts of Senior Caregiving
Our Visiting Angels Flagstaff team has learned, grown, laughed, and cried with their clients. Although these aren't gifts in physical form, they are even more critical.
A Chance to Give Back
Seniors are often overlooked in our society – placed to the side when they are deemed no longer "useful." However, our senior neighbors and friends have built our community, and it's up to us to give the best care possible by ensuring that they feel appreciated, supported, and loved. Visiting Angels Flagstaff team members recognize this is more than just a job – it's a chance to give back to the community.
Connection to Meaningful Relationships
Our relationships with our clients are extraordinary. Aging can be a slow, scary process, especially if you're going at it alone. Many of our clients live alone or with family members who can't be with them all hours of the day. Our Angels provide companionship and more: food preparation, help around the home, medication management, and personal hygiene tasks. The relationship between the caregiver and client must be built on a solid foundation of trust, both with the client and their families. It's impossible to be deeply ingrained into a family unit and not build meaningful relationships.
When you work with seniors and their families, you often experience heartbreaking grief, but with sadness comes the joy of knowing you contributed to their comfort.
Skills You Could Turn into a New Career
Visiting Angels Flagstaff welcomes new caregivers with no experience necessary! Training on caregiving basics is a large part of our team onboarding. As you move through your career as a senior caregiver, you'll work closely with doctors and nursing staff who are caring for your client. This access to the medical profession has inspired a new career in nursing or other health professions, counseling, and social services for some of our caregivers.
Make A Difference with Visiting Angels Flagstaff
As the saying goes, it's better to give than to receive, but we enjoy these gifts of inspiration from the job! We are searching for caring, trustworthy individuals to join our team of Angels. If you have a passion for giving back and want to learn more, visit our website, chat with a virtual recruiter, or browse open positions!