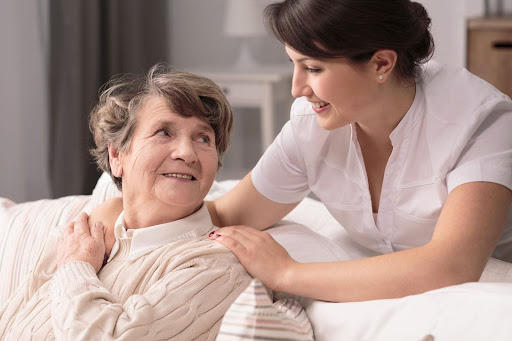 Qualities of a Successful Professional Caregiver
Many qualities contribute to the success of a professional caregiver, but the essential attributes Visiting Angels looks for in our caregivers are kindness, adaptability, trustworthiness, patience, and the willingness to ask for help.
Kindness
Kindness means a person is friendly and considerate. Being kind helps build relationships with your clients and allows them to feel comfortable around you. Kindness as a caregiver is also about showing your clients respect. That means knowing how to speak to them appropriately, even in stressful situations. A kind caregiver also remembers that their clients are humans who deserve to be listened to and taken seriously regardless of their physical or mental health.
Adaptability
If you're the type of person who likes to plan their day and know exactly what will happen, then caregiving might not be the best career choice for you. There's a lot of unpredictability that can come with professional caregiving. The unpredictable moments are not significant shifts in your plan, but you'll likely encounter small daily changes. Maybe you went grocery shopping with your client and bought all the ingredients to make one meal, but now they want something else. Or you might have a day when you plan a fun outing, and your client would rather stay home. Being adaptable allows you to embrace those challenges and develop fast-acting solutions.
Trustworthy
Trust between caregivers and clients is critical to building a solid relationship. Clients need to trust that you have their best interest at heart and know how to care for them. Having trust is also vital for making your clients feel comfortable. They're essentially letting a stranger into their home and asking this person they don't know to help them with personal tasks. The more trustworthy a caregiver is, the more accepting clients will be of help.
Patience
Aging comes with many challenges, and there may be days when you notice a client having trouble with something and refusing assistance. Instead of stepping in and doing something for them, have patience and allow them to work through the problem independently (unless they're putting themselves in harm's way, then step in to help). Patience is also about not rushing clients if they're moving or thinking slower than you'd like. Having patience goes along with empathy and putting yourself in your client's position to understand what they're going through.
Accepting of Help
An essential part of being a professional caregiver is knowing when you need help and feeling comfortable asking for it. You don't, and shouldn't be, everything for your client. If your client needs assistance outside of what you can provide, it's okay to reach out to the office staff or a care coordinator to ask for help. It's also okay and encouraged to ask for assistance if you're feeling overwhelmed, confused about how to do something, or unsure how to navigate a difficult situation. Asking questions and seeking guidance is the only way for you to learn and grow as a professional caregiver.
If you have the qualities of a successful caregiver and think it may be the right career, the Visiting Angels team would love to connect. Our Flagstaff office hires caregivers to work with families in Flagstaff, Payson, ShowLow, and the surrounding communities. Working with Visiting Angels means receiving competitive pay, paid training, bonus opportunities, reimbursable mileage, paid time off, and a clear career path with a scholarship program. If you're interested in learning more, send us your information or call 928-220-4100.