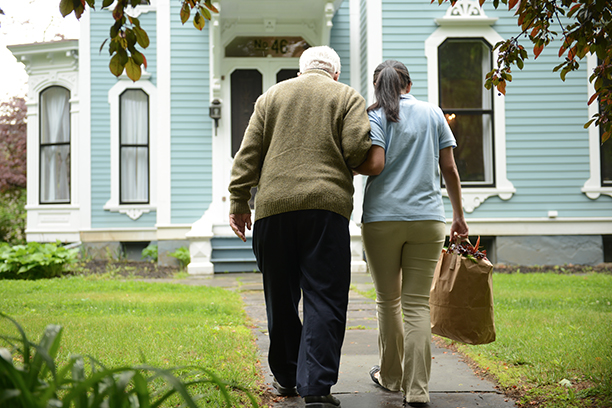 What to Expect
This transitional period can often be very difficult and stressful for everyone involved. Feeling a loss of independence, developing physical limitations, or a sudden decline in health will often shift the dynamic relationship between parents and children. That shift can cause several problems including resistance to help and financial burden, just to name a few. Speak to our friendly staff members about your unique situation and let us use our experience and expertise to answer any questions you may have and help you navigate these challenging circumstances.
How do I know I can trust this person?
Our caregivers go through a three step screening process as well as thorough background checks, licensure registry checks and extensive reference verification.
What do caregivers do?
The caregiver is there to ensure a clean, safe and comfortable environment. This includes personal care assistance, medication reminders, meal preparation, shopping, errands, appointments, light housekeeping and companionship. Our caregiver will provide services you request based on the Individual Service Plan.
What won't caregivers do?
Visiting Angels is a licensed non-medical home care service provider. Our caregivers cannot provide medication dispensing, injections, wound care, colostomy care, feeding tube assistance, enemas or any service defined as a medical service by the state. Our caregivers will also provide light housekeeping but do not replace a house cleaning service.
Do caregivers wear uniforms?
Our caregivers wear Visiting Angels blue scrub tops and professional pants along with a name badge to be easily identified. At a client's request, we can be flexible if the preference is for the caregiver to not wear scrubs.
Do caregivers bring their own meals?
The caregivers come prepared with the meal occurring during their shift. Providing a meal for the caregiver that occurs during the visit hours is at your discretion.
What do caregivers do when they are not attending to the client's needs?
Caregivers are available to the client during their entire assigned visit. For longer visits, there may be down time when all chores are complete and the client is resting. The caregiver may take reading material or other items to keep themselves quietly occupied.
Where do caregivers stay in the house?
Caregivers give as much space as requested by the client. They can be directly beside the client to offer companionship and engage in activities, or they can provide privacy while still being close by to ensure the client's safety.
What do I need to do so they can do their job?
Our caregivers have the experience to provide great care to our clients. The only additional items they will necessary to service your needs are any personal care items, gloves or household cleaning products you would like them to use while providing the services you request.
What happens if the caregiver gets sick and can't come in?
Our office staff is available to our clients as well as our caregivers 24/7. If your caregiver is unable to report for their scheduled visit, our staff will provide a fill-in caregiver as quickly and close to the original visit time as possible and will keep the client informed of any change.
Are the caregivers bonded and insured?
Yes, all caregivers are bonded and insured through our agency, which in turn gives you peace of mind.
Serving Granbury, Weatherford, Cleburne, Lake Worth, Stephenville and the surrounding areas
Visiting Angels
GRANBURY, TX
805 Paluxy Rd,
Granbury, TX 76048
Phone: 817-279-7373