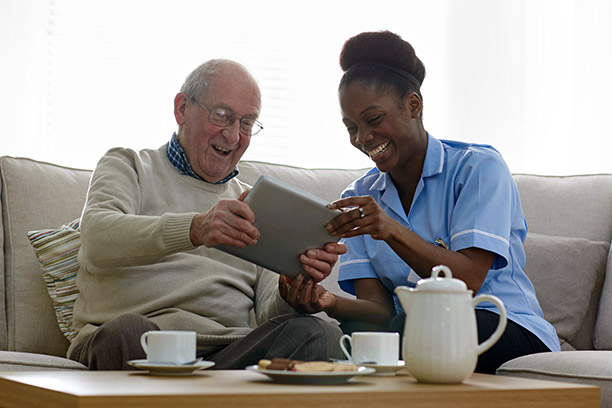 Elderly Care Services: Alzheimer's Care in Greensboro, NC and the Surrounding Area
Visiting Angels' Elderly Care Services Help Alzheimer's Patients Living in Greensboro, High Point, and Nearby Cities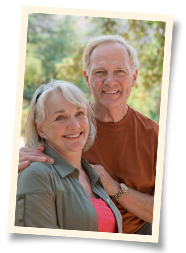 It can feel overwhelming when your aging mom or dad receives a diagnosis of Alzheimer's. Families often wonder where to turn for the elderly care services they need. Visiting Angels of Greensboro can help with compassionate Alzheimer's and dementia care. Our memory care specialists can work with your family and your loved one's physicians to provide the support you need. You will be pleasantly surprised to discover the Alzheimer's care from Visiting Angels of Greensboro offers support and relief for your entire family.
Alzheimer's Care Can Ease Many Concerns
Families of Alzheimer's and dementia sufferers often have many worries in regard to their loved one's nutrition. You may have concerns about a loved one's ability to safely prepare meals, make proper food choices, or to eat regular meals. Elderly care services from Visiting Angels Greensboro can help ease these concerns. Our memory care specialists can help your loved one plan out meals. We can also help with grocery shopping, meal preparation and even companionship during mealtimes. When your loved one is being cared for by Visiting Angels of Greensboro, you can relax knowing skilled professionals are looking out for them.
Our services can also help with a wide variety of other tasks and needs. From bathing and dressing in the morning to transportation to the doctor, our caregivers are there when you need us. We offer flexible schedules and affordable hourly rates so you can be confident your loved one's needs will always be met.
Continuous Monitoring
Visiting Angels of Greensboro believes in regular monitoring of our elderly care services. To provide you with the quality senior care which has become our standard, regular follow up is required. We do this in a couple of ways. First, professional staff from our agency will call you and/or your loved one to check in on a regular basis. Second, we will make occasional visits in person to see your caregiver in action. This allows us to ensure your services from Visiting Angels Greensboro are of the highest quality. If you have questions at any time regarding your loved one's in home care, you are welcome to contact our agency. We have trained professionals available to answer your questions at any time, day or night. You will be happy to know client phone calls are returned within 15 minutes, even overnight.
For Alzheimer's care you can feel good about, call Visiting Angels Greensboro at 336-281-6746. Everyone at our agency is ready to help your loved one get the quality of life they deserve.
Serving Greensboro, High Point, Winston-Salem and the Triad Area
Visiting Angels
GREENSBORO, NC
532 N Regional Rd #L
Greensboro, NC 27409
Phone: 336-665-5345
Fax: 336-880-5859