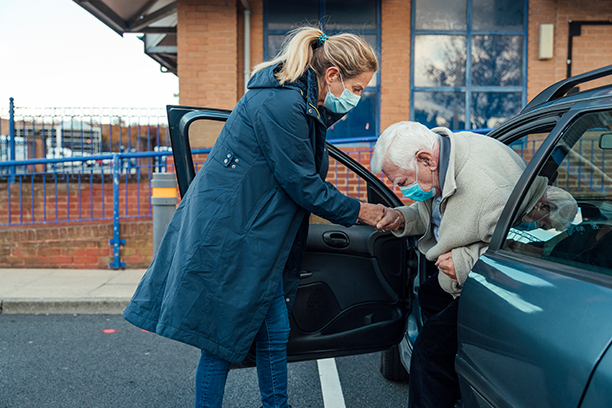 How a Home Health Aide from Visiting Angels of Greensboro, NC can Help with Alzheimer's Care
Home Health Aides for Seniors with Alzheimer's in Greensboro, High Point, and Surrounding Areas
The National Institute on Aging reports that Alzheimer's is an "irreversible, progressive brain disorder that slowly destroys memory and thinking skills, and eventually the ability to carry out the simplest tasks." It's completely understandable that after an Alzheimer's diagnosis, one can feel alone and isolated. At Visiting Angels of Greensboro, we're here to remind you that you're not alone. The Alzheimer's Association reports that 5.8 million people are living with Alzheimer's. There isn't a cure for Alzheimer's, but there are steps that you can take, methods and medications, to slow the progression of the disease.
Are you concerned that your loved one may have Alzheimer's? Below are 10 warning signs of Alzheimer's to watch out for.
Remember these 10 Warning Signs of Alzheimer's:
Challenges in planning or solving problems

Memory loss that disrupts everyday life

Confusion about time or place

Difficulty completing tasks at home or work

New problems with words in speaking or writing

Misplacing things and losing the ability to replace steps

Changes in mood or personality

Withdrawal from work or social activities

Trouble understanding visual images and spatial relationships

Decreased or poor judgment when making decisions
If you witness your loved one showing symptoms of Alzheimer's, get them to their primary care physician as soon as possible. The sooner they become diagnosed, the sooner they can receive care, whether it's from a family caregiver or a home health aide.
If you or someone you love is diagnosed with Alzheimer's, below are some basic steps that you take to smooth the transition into the next stage of life:
Educate yourself about the disease

Encourage cognitive stimulation

Take care of financial, legal, and long-term home care planning issues (i.e. hiring a home health aide, evaluating their finances)

Arrange respite and/or regular professional senior care

Build a support system
At Visiting Angels of Greensboro, we're here to support you at every step of the way. We provide our home health aides with Dementia Care Professionals of America training to ensure they're highly equipped to cater to your loved one's needs. If you would like to learn more about our in home care, call our offices at your earliest convenience.
Serving Greensboro, High Point, Winston-Salem and the Triad Area
Visiting Angels
GREENSBORO, NORTH CAROLINA
532 N Regional Rd #L
Greensboro, NC 27409
Phone: 336-281-6746
Fax: 336-880-5859