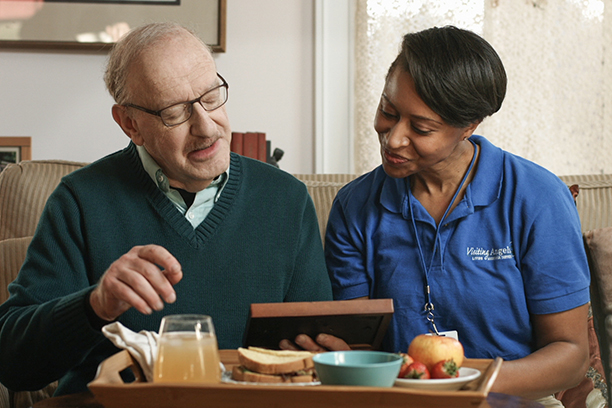 How Can I Get Started with In-Home Elderly Care Services from Visiting Angels of Grosse Pointe?
At Visiting Angels, we aim to make it easy for families in St. Clair Shores, Grosse Pointe and surrounding areas in MI to get started with in-home elderly care services
At Visiting Angels® of Grosse Pointe, we know how stressful it can be to realize that an elderly loved one is in need of in-home care. If your loved one is having trouble with activities of daily living or they're managing a chronic condition, relocating into an assisted living facility isn't their only option. Our in-home elderly care services can help minimize the burden you feel while ensuring your loved one has access to high-quality senior care that makes aging in place a reality.
If this is the first time you've looked into home care options, it can be difficult to figure out the next steps. However, Visiting Angels of Grosse Pointe makes it easy to get started with our in-home elderly care services. Simply contact our office in St. Clair Shores to request a free consultation. Our care coordinator will meet with you and your loved one in person and then design their custom care plan. Finally, we'll assist you with selecting a caregiver from our team who can help them maintain an independent lifestyle.
What's Included in Our In-Home Consultations
The purpose of our in-home consultations is to give the information your family needs about our in-home elderly care services. We also use this time to answer any questions you may have about our team or the home care services we offer, discuss your loved one's daily routines and care requirements and make recommendations that can help your family understand how we can help your loved one.
Our consultations also give our team the opportunity to familiarize ourselves with your loved one's personality and everyday routine. This helps us make the right caregiver match for your loved one.
Here's a quick overview of the subjects we cover during our in-home consultations:
Physical needs: We can talk about the daily challenges the senior faces with activities such as bathing, grooming and housekeeping and how our in-home personal care services can help.
Social and emotional needs: We can work with your family to pinpoint how our companion care services can fulfill your loved one's needs for social interaction and companionship and improve their quality of life.
Logistical details: We go over the logistics of our in-home elderly care services, including hourly rates, payment options, handling unexpected situations and rescheduling care visits.
If you decide that Visiting Angels of Grosse Pointe is the best solution for your loved one after discussing these details, our care coordinators can work with you to design a plan of care. We will take your loved one's needs and schedule into account a create a care plan that includes the services they need with a schedule that works with their everyday routine.
Choosing Your Own Caregiver
If you choose to proceed with our in-home elderly care services, we'll begin the process of selecting a professional caregiver to support your loved one on a day-to-day basis. During this process, we consider important factors such as your loved one's personality, the skills needed to assist with specific age-related challenges and scheduling availability. It's our goal to make sure our caregivers and care recipients are perfectly compatible. This provides the basis for a cherished relationship your loved one can turn to in times of need and allows us to provide excellent in-home care.
What if I Live Outside of Grosse Pointe?
If you don't live in or near Grosse Pointe, rest assured that we can still include you during the consultation. We offer long-distance options for consultations for family caregivers who live far away from their loved ones. In addition, our team will also keep in contact with you while providing care so we can keep you updated on your loved one's health, safety and well-being. We understand that you may worry about your loved one's ability to live on their own when you can't always be around to check up on them, so we want to give you peace of mind that your loved one is always in good hands when you choose Visiting Angels of Grosse Pointe. With personal care assistance, medication reminders, transportation assistance and other in-home elderly care services, we can ensure your loved one has the support they need to live out their golden years at home.
Call our St. Clair Shores, MI office at 586-777-9217 to schedule a free in-home consultation with Visiting Angels of Grosse Pointe today!
Serving Grosse Pointe, St. Clair Shores, Macomb, New Baltimore, Harrison Township, Chesterfield, and throughout Macomb and Wayne Counties in Michigan
Visiting Angels
GROSSE POINTE, MI
20311 Mack Avenue #1
Grosse Pointe Woods, MI 48236
Phone: 586-777-9217