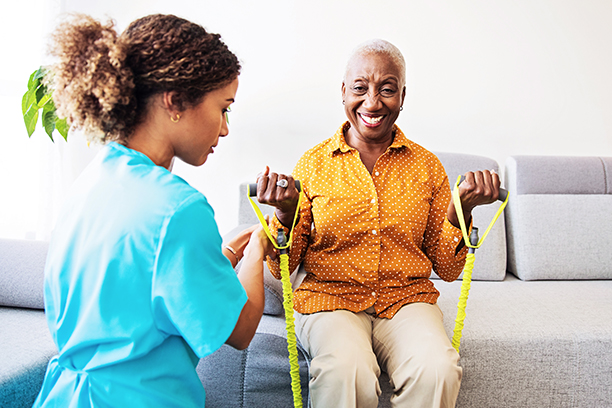 How Transitional Care in Grosse Pointe Reduces Hospital Readmissions
Ready-Set-Go Home with Transitional Care
When you know your loved one's desire is to be at home in their golden years, it can be tough to see them undergo a stay at the hospital. Helping them avoid a readmission is key to ensuring they can fulfill their desire to remain at home as they age. Transitional care services delivered by the caregivers at Visiting Angels Grosse Pointe can make a significant difference in your loved one's discharge experience and their ability to recover after a hospital stay.
At our locally owned and operated care agency in the Grosse Pointe area, we understand the many benefits seniors enjoy when they age in place. The goal of our services is to help care recipients stay at home for longer. This is why we have developed a comprehensive transitional care program called Ready-Set-Go Home. Thanks to the services offered by our transitional care providers, elderly adults can have the advantage of well-rounded support as they prepare for their departure from the hospital and get back into their normal routine at home.
What Causes Hospital Readmissions?
A number of factors influence a senior's risk of being re-hospitalized. However, there is one factor in particular that is common among readmitted seniors. Many of those who are re-hospitalized did not have help at home following their discharge. This could mean they struggled to implement doctors' orders on their own or complete basic tasks essential to their well-being. With nearly one in five Medicare beneficiaries being re-hospitalized within a month of leaving the hospital, it's clear seniors often require support with their discharge in order to make a successful recovery.
How Our Transitional Care Program Helps Seniors in Grosse Pointe
Our transitional care program is named Ready-Set-Go Home because it focuses on preparing seniors for the transition home and assists them both before and after their discharge. Here's how our three-pronged approach to care works:
We offer support in the hospital. Our care providers help lay the stage for a smooth discharge through the guidance and resources they provide.
We deliver high-quality in-home care. Seniors can enjoy compassionate support from our caregiving team in the comfort of their homes.
We provide additional help from our office. The staff at our office track seniors' progress and coordinate the logistics of caregiving.
Call Visiting Angels of Grosse Pointe today to set up a free transitional care consultation in Grosse Pointe, Chesterfield, Grosse Pointe Park, Grosse Pointe Woods, Macomb, New Baltimore, St Clair Shores, or a community in the vicinity!
Serving Grosse Pointe, St. Clair Shores, Macomb, New Baltimore, Harrison Township, Chesterfield, and throughout Macomb and Wayne Counties in Michigan
Visiting Angels
GROSSE POINTE, MI
20311 Mack Avenue #1
Grosse Pointe Woods, MI 48236
Phone: 586-777-9217