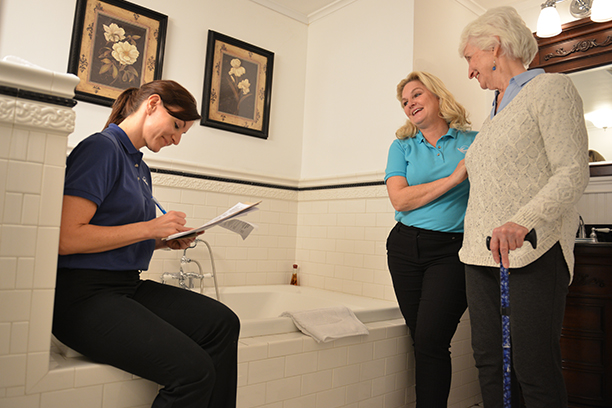 Experienced Home Care Professionals in St Clair Shores and Grosse Pointe, MI
Learn how our experienced home care professionals help seniors in Grosse Pointe and St. Clair Shores, MI get the care they need
More and more seniors are gravitating toward in-home senior care when they start experiencing age-related issues that interfere with their ability to remain independent. Seniors who receive care at home can continue following their everyday schedule and routines while receiving assistance with daily tasks and a caring presence who will help them stay safe, comfortable and content.
If your loved one needs in-home support, it's important to find an agency who has the right experience. After all, it can be difficult to count on a stranger to care for your loved one, so you want to find a home care professional who will be able to provide the services your loved one needs in order to age in place in their beloved home.
That's why at Visiting Angels of Grosse Pointe, we strive to hire caregivers who have the right experience to provide the quality care our clients deserve. When you choose Visiting Angels to be your partner in senior care, you'll have peace of mind knowing your loved one is in good hands.
How We Find the Perfect Caregivers
When finding qualified and local home care professionals, our screening and interviewing process helps us find the right experts. We look for individuals who have prior caregiving experience as well as references from reputable organizations like healthcare institutions, other caregiving agencies, residential senior living communities and volunteer organizations. This helps us ensure that the caregivers we hire are trustworthy, experienced and passionate about caring for elderly and disabled adults.
Helping You Find the Right Caregiver for Your Loved One
At Visiting Angels of Grosse Pointe, we understand that seniors have their own unique needs. Therefore, we believe in a personalized approach to senior care. That means in addition to receiving a personalized care plan, you will also have the option of choosing which home care professional from our team will work with your loved one.
We will introduce a selection of caregivers we feel may be the right fit based on your loved one's care needs, schedule, personality and other factors. However, you will have the final say on which caregiver supports your loved one.
This process helps our caregivers form strong bonds with care recipients. To us, finding experienced caregivers isn't enough. We want to make sure our clients are comfortable with the care provider they selected and look forward to every visit. By providing one-on-one care, we can not only assist your loved one with daily activities but can also fulfill their need for social interaction through meaningful companionship, make sure they stay safe and keep your family updated on their well-being. We often hear that our caregivers become like family to the clients we work with because of our process of finding the right caregiver for every senior in our care.
If you'd like to learn more about our home care professionals, call our St. Clair Shores, MI office at 586-777-9217 to schedule a free in-home consultation!
Serving Grosse Pointe, St. Clair Shores, Macomb, New Baltimore, Harrison Township, Chesterfield, and throughout Macomb and Wayne Counties in Michigan
Visiting Angels
GROSSE POINTE, MI
20311 Mack Avenue #1
Grosse Pointe Woods, MI 48236
Phone: 586-777-9217