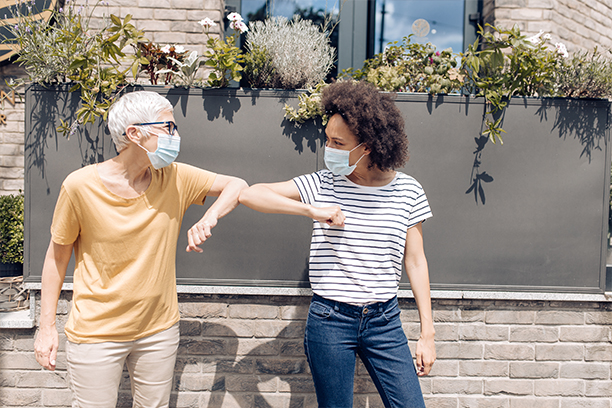 Respite Care in Grosse Pointe
When you are your loved one's primary caregiver, you may feel you need to be there for them 24/7. However, this is an unsustainable approach to caregiving that can easily lead to burnout. Rather than overlooking your own needs in order to be by your loved one's side, take the time to tend to your well-being through self-care. Respite care services from Visiting Angels® of Grosse Pointe are always available whenever you feel you need some time for yourself but want to ensure your loved one is in safe and caring hands.
What is Respite Care?
Respite care is a form of senior home care. However, unlike conventional senior home care, this care type allows the family caregiver to maintain their role as the senior's main source of support. Instead of taking over the family caregiver's duties completely, our care providers step in temporarily. This enables the family caregiver to take time away from their demanding schedule without feeling constant guilt or worry about their loved one's comfort and security.
How Respite Care Helps Seniors in Grosse Pointe
Respite care helps family caregivers maintain their ability to be emotionally available for their loved one and have plenty of energy for the physical aspect of caregiving. As these services also give seniors the chance to engage with kind and compassionate individuals who care about their well-being, it helps them expand their social circle and feel comforted in difficult times.
Our care providers are able to assist with a wide array of daily activities and basic tasks. Some of our most commonly requested services include the following:
Providing a helping hand with seniors' personal care routines
Doing basic chores to keep the home clean and tidy
Cooking meals and doing the grocery shopping
Offering transportation when seniors need to run errands
Giving timely reminders about taking medications
Getting Started with Respite Care
You don't have to work yourself to the point of burnout to ensure your loved one has the care they need. Protect your own physical and emotional well-being by reaching out for support from our care providers. We're here to answer any questions you may have and can even arrange a free care consultation to discuss your personal situation further.
Call Visiting Angels of Grosse Pointe for a no-cost, no-obligation respite care consultation in Grosse Pointe, Chesterfield, Grosse Pointe Park, Grosse Pointe Woods, Macomb, New Baltimore, St Clair Shores, or a town in the vicinity today!
Serving Grosse Pointe, St. Clair Shores, Macomb, New Baltimore, Harrison Township, Chesterfield, and throughout Macomb and Wayne Counties in Michigan
Visiting Angels GROSSE POINTE, MI
23229 Nine Mack Dr
St Clair Shores, MI 48080
Phone: 313-710-6696