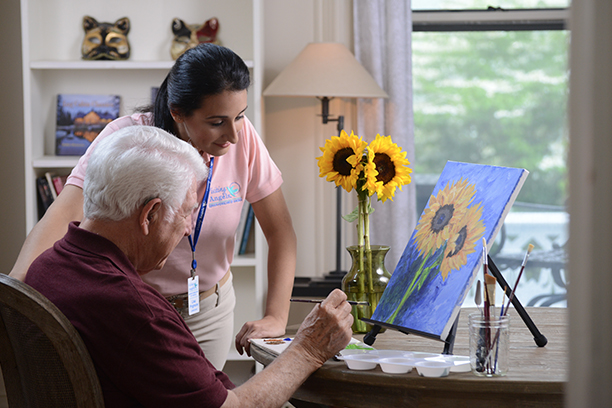 Our Character
Choose a Visiting Angels Elderly Care Provider in Harrisburg PA
One of the reasons so many families in the Harrisburg area choose Visiting Angels is because of the quality of our caregivers. Visiting Angels is known for having some of the most compassionate elderly care providers in the industry. The elderly care providers employed by Visiting Angels Harrisburg are no exception. In fact, they prove the rule.
Visiting Angels Harrisburg PA is fully committed to providing each client with an elderly care provider that not only meets their physical needs, but who provides care in a loving manner. We believe the best at home elder care is provided by caregivers who are committed to dignified, respectful and compassionate care.
It is our special attention to the personal details that makes our care stand out. We provide so much more than physical care to our clients. Our elderly care providers are companions who get to know their clients. A Visiting Angels Harrisburg elderly care provider is one who will spend time talking to your loved one learning about their favorite activities, their family members, their fond memories, and favorite stories. They work hard to develop relationships with their clients. As they develop these relationships, the quality of care is reinforced. Our clients trust their elderly care provider. That trust ensures we are able to provide superior care.
To ensure your loved one is able to connect with their elderly care provider, we encourage you to choose the caregiver you will work with. We will choose several elderly care providers who have the skills your loved one requires. You will have the opportunity to meet with them and choose the one you believe is the best fit for your loved one. Having the opportunity to choose your caregiver enables you to have confidence in your elderly care provider.
Your loved one can enjoy superior care and a close personal connection with their elderly care provider when you choose Visiting Angels Harrisburg PA. Please call our office today to learn more about our elderly care providers and our home care services
Serving Harrisburg and Dauphin and Cumberland Counties, PA
Visiting Angels
HARRISBURG, PA
4607 Locust Ln #5
Harrisburg, PA 17109
Phone: 717-652-8899
Fax: 717-909-3185