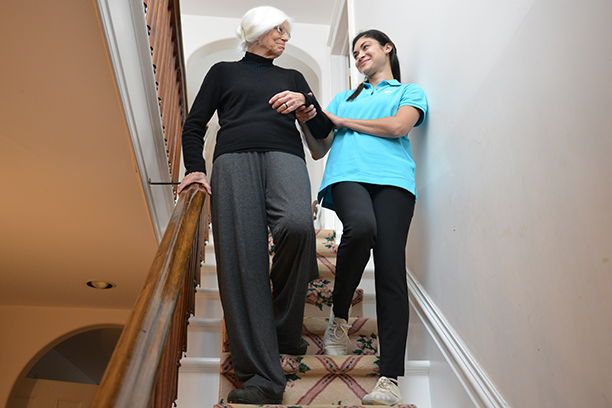 You're in Control
We Want to be Your Homecare Service Agency in Harrisburg PA
Searching for a homecare service agency is no small task. You have so many questions. You are under pressure to find the right homecare service agency quickly. It can be difficult to know which way to turn. With so many choices, how do you find the homecare service agency that is right for your family and your needs? Visiting Angels Harrisburg PA understands your concerns and anxiety. We know finding a homecare service agency in Harrisburg PA is challenging. We want make it easier for you.
Visiting Angels Harrisburg PA is a homecare service agency serving families in Dauphin and Cumberland Counties. We work with families throughout the Harrisburg area to answer their questions and to help them find peace of mind. It is our goal to help you find the best solution for your family. We believe finding the right homecare service agency is about trust. We'll do everything in our power to earn that trust.
At Visiting Angels Harrisburg, we put the needs of our client's first. For us, home care services are all about your needs and how we can meet them. From our initial conversations throughout our time together, we are always working to understand how we can better meet your need as a homecare service agency.
We start by creating a custom care plan that strives to address all your health and well-being concerns. Our office team will work with you, your family and your health care providers to get a complete understanding of your needs. There are no cookie cutter solutions with Visiting Angels Harrisburg; this homecare service agency only creates individualized solutions to meet individual needs.
With Visiting Angels Harrisburg PA as your homecare service agency, you will also get to choose your caregiver. We believe the relationship between caregiver and client is essential to the quality of care provided. This relationship needs to be positive and joyful. To ensure you get along well with your caregiver, we allow you to choose the caregiver you will work with.
Of course, once you being working with your caregiver, your schedule is always yours to set. We won't ask you to change your routine to better accommodate our needs. It's our job to adapt to your schedule, not the other way around.
Find out why families throughout the Harrisburg PA area choose Visiting Angels as their homecare service agency. Call our office today.
Serving Harrisburg and Dauphin and Cumberland Counties, PA
Visiting Angels
HARRISBURG, PA
4607 Locust Ln #5
Harrisburg, PA 17109
Phone: 717-652-8899
Fax: 717-909-3185