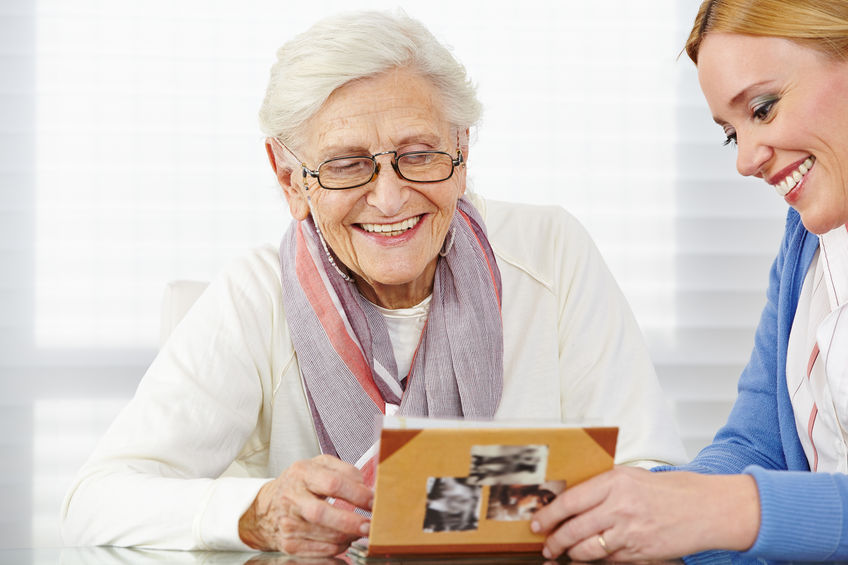 How to Create More Meaningful Moments with Your Aging Loved One
As our parents or close relatives age, it can be challenging to stay connected with them. Physical ailments and memory lapses mean that visits outside the home happen less frequently. Hearing impairments can cause a conversation to be stifled. Other challenges that come with advanced age can contribute to moody temperaments, such as poor sleep or pain.
As your loved one needs more help, your time together looks different. Visits turn into completing to-do lists. Conversations revolve around your loved one's health conditions and upcoming doctor appointments. Before you realize it, you leave your visit exhausted and drained. Your visits are no longer meaningful, and you begin to resent stopping by in the first place.
Many family members struggle with how to engage their loved one during the short time they have together. If you can relate, here are a few suggestions on how to create more meaningful moments with your aging loved one.
Begin with Conversation
If your visits have become to-do lists, as mentioned above, rethink how you start your time with your aging loved one. Before diving into housework, laundry, or other chores, try to start the visit with a few minutes of conversation. Make yourself and your loved one a cup of tea or coffee, sit down together, and spend ten minutes catching up. Once you've finished your coffee, transition to care tasks. By pausing at the start of your visit, your loved one will feel hospitable instead of like a burden to you.
Start a New Hobby
Hobbies not only allow seniors to learn something new, but they can also help your visits become more meaningful. Look for hobbies that you and your loved one can do together. Do they have a lot of family photos tucked away in a shoebox? Pull them out and create a family photo album. Do they like to garden? Purchase materials to make a windowsill herb garden. Between visits, encourage your loved one to make progress towards your joint project. During your next visit, praise their efforts and pick up where they left off.
Ask Them to Help
Keep your loved one's dignity and independence intact by assisting them with chores, rather than doing everything for them. Ask them to help you as you work through the to-do list. Perhaps they can help dry dishes, sort mail, or fold laundry, while you do light housekeeping. Resist the temptation to do everything yourself. There are often many missed opportunities for meaningful interaction when you take over.
Be Spontaneous
When you begin to feel more like hired help than a daughter, son, niece, nephew, or close friend, it's time to change up your visit. Surprise them with their favorite treat. Choose to play a game instead of cleaning the entire house, just for this one visit. Go for a walk, sit outside, or take your loved one on a drive. Anything that changes up the normal routine will be life-breathing for both you and your loved one.
Reminisce
Finally, when there's a lull in the conversation, try reminiscing. Reminiscing helps seniors stay connected to their past and reaffirms their feelings. It's a great way to engage seniors who struggle with memory loss. Seniors with memory deficits struggle with short-term memory, whereas long-term memory remains intact. Reminiscing is also a great way to learn more about your loved one and their perspective on life. The next time you visit, ask about their favorite family vacation or how they spent the summer as a child.
If you are looking for more ways to create more meaningful moments with your aging loved one, look no further than Visiting Angels Jenkintown. We provide a comprehensive approach to senior home care that is tailored to meet the individual needs of our clients. Our compassionate caregivers can assist with some of the care demands, giving you more time to have a meaningful visit with your loved one. Our home care services are beneficial to both the client and their family. Please contact us today by calling 215-938-7201 to learn more about how we can partner together.