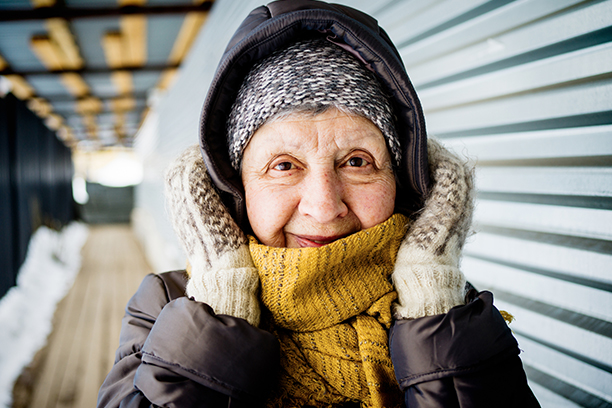 Why Choose Visiting Angels Jenkintown for Senior Home Care Services?
Families in Jenkintown, Hatboro, Horsham, and surrounding areas throughout Eastern Montgomery County, PA choose Visiting Angels because of our client-centered approach to senior home care services
When you were growing up, your mother probably had a hairdresser. It wasn't a chain of shops with dozens of hairdressers there and gone from month to month. It was one individual who knew your mom, knew her hair, and considered it a privilege to be her hairdresser. And your father probably had a mechanic. It wasn't a discount store with a tire service in the back or a chain of oil-change shops. It was one man, probably a neighbor, who knew your dad, knew your family, knew the car and all its special noises - and considered it a privilege to be his mechanic.
Now that your parent is older and needs assistance at home, why would you want anything less for them?
Now you understand the most important difference between Visiting Angels and other providers of senior home care services: We're not a referral service – our caregivers are our employees. Before you get to interview a prospective Visiting Angels caregiver, we've not only interviewed them but recruited, screened and helped orient them to be professionals we can be proud of and you can trust.
Local Ownership / National Presence
Local ownership is very important in that the accountability of day to day operations exists within the office that is servicing your loved one. While this is important, it is equally important to know that there is a national presence to the company that is part of the care team.
Drug Screening
One of the more important issues that everyone seems to take for granted is drug screening. While most companies state that they have the option to drug screen, Visiting Angels drug screens all caregivers prior to being hired and then randomly throughout the caregiver's employment. While this is not required, it sure is evidence that Visiting Angels goes above and beyond.
Background Checks
Background checks are standard in the senior care industry. What is not standard is going a step beyond. For this reason, we perform an extremely comprehensive background check consisting of a national background check, state level background check and more. Our background checking is so advanced that it finds where an individual has lived for the past seven years and does a county criminal check at each county in that 7-year span! Amazingly detailed reporting helps us to verify not only that the individual has a clean criminal background, but also where that individual has lived and if they have ever used any other names.
Select Your Caregiver
When you decide that Visiting Angels is the best provider for senior home care services for your loved one, what is the next step? We know that a good caregiver is one of the cornerstones to a successful care relationship. For that reason, we do the following:
We feel it is important to come out and meet with you to discuss the services and understand exactly what your needs are. This is called a complimentary assessment.
Once we have an understanding of your situation and how we can help, we do everything in our power to make a perfect match of your loved one's needs and personality with the skills and personality of the caregiver.
We bring the caregiver out to meet you, in the comfort of your home, so that you have an opportunity to get to ask questions and get to know who will be providing senior home care services for your loved one.
Once you are comfortable with our caregiver, we can start providing the services.
Caregiver Screening
When interviewing a caregiver, Visiting Angels believes that to do a thorough job we must approach that individual from several different angels and really listen to them as they discuss "their story." Therefore, we do the following:
Pre-Interview - The potential caregiver is pre-screened, online, with a 15 point questionnaire. If the potential caregiver clears the pre-interview questionnaire, she/he is interviewed, in person, by the Human Resources Coordinator who asks specific questions regarding their background, including where they have worked, and more importantly, what would make them a great "Angel".
All references are checked and verified and a criminal background check is performed.
Orientation – Caregivers are oriented to the policies and procedures of Visiting Angels and are drug tested. Caregivers are oriented by our Human Resources Coordinator, our Client Services Manager and our Administrative Coordinator.
Supervisory Visits and Monitor Calls – Our office staff remains in constant contact with our caregivers as they are caring for your loved one. Unannounced supervisory visits are conducted and monitor calls to the client and/or client's family are made on a regular basis.
Supervisory Visits
While we trust that our caregivers are doing a fine job, we want to confirm that through unannounced "Supervisory Visits." During the course of these visits we check for the health and well-being of our care recipients, the appropriateness of the level of care provided and how our caregiver is performing under those conditions. You are trusting us to provide high-quality senior home care services and we want to meet and exceed those expectations.
Bonding and Insurance
All caregivers are bonded and insured. That being said, what does that mean? Bonding covers what is known as employee dishonesty (theft). Insurance covers general liability above and beyond bonding. It's important to Visiting Angels that if an event happens that requires either of these safety nets, that you are covered.
Employees vs. Independent Contractors
There is a tremendous difference between the relationship of an agency with either an employee or an independent contractor. Employees are subject to enforcement of company stated Policy and Procedures, dress codes, drug screening, background checking, scheduling, tax liabilities, workers compensation, etc. Independent contractors are not covered by Workers' Compensation or tax liabilities and cannot be required to follow an agency set schedule (your schedule) while performing tasks a specific way. Federal law makes this distinction very clear. For this purpose, it is in your best interest and ours that ALL caregivers have a status of "employee" and not "independent contractor".
Phone Alert System
How do you know that someone is at work when they are supposed to be at work? Visiting Angels has a phone clock in and out system. The caregivers are required to clock in and out from your home phone. We are aware of exactly when a caregiver arrives by that phone call. If the caregiver has not arrived within 10 minutes of a scheduled shift, all Visiting Angels administrative personnel are alerted by email, text message and paging so that proactive measures can be taken to ensure that a visit is not missed and your loved one is safe.
Get Started with Visiting Angels Jenkintown
If our senior home care services sound like the right option for your loved one, we encourage you to contact our Jenkintown, PA office today. You can arrange a free in-home consultation with our care coordinators, where we'll work with you and your loved one to create a personalized care plan and find the right caregiver.
Serving Jenkintown, Abington, Huntingdon Valley, Glenside, Chestnut Hill, Flourtown and the Surrounding Areas
Visiting Angels
JENKINTOWN, PA
1250 Greenwood Ave #1A
Jenkintown, PA 19046
Phone: 215-938-7201
215-938-7202
Fax: 215-887-7204