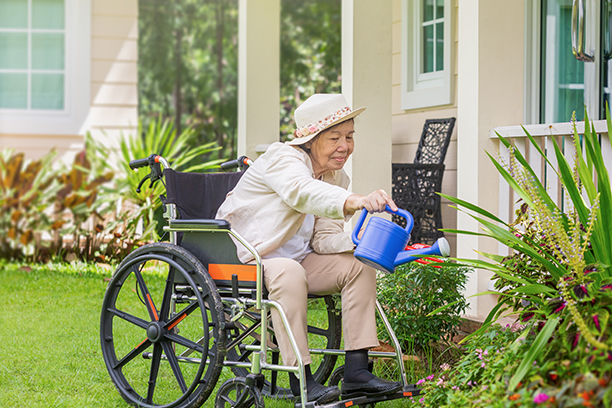 Caregivers Bryn Athyn, PA
At Visiting Angels, our professional caregivers in Bryn Athyn, PA are committed to providing reliable and compassionate home care services to senior community members. Deciding whether to age in place can be complicated, and we aim to make that decision easier by offering the personalized care your loved one needs to thrive in the comfort of home. From recovery care and fall prevention to end-of-life support, we can be there for your elderly loved one, no matter their needs.
If you want reliable and compassionate home care services to foster your loved one's well-being at home, contact our caregivers in Bryn Athyn, PA today to learn more about how we can help.
Our Approach to Personalized Home Care at Visiting Angels
At Visiting Angels, we believe that every client deserves high-quality, personalized care tailored to their individual needs. To ensure each client receives the right level of assistance, we collaborate with you and your loved one to determine which services may benefit them.
Whether your loved one needs assistance with daily living activities—such as showering or dressing—requires companionship for enrichment and emotional support, or needs specialized assistance to manage Alzheimer's or dementia, our caregivers can be there to provide comprehensive, high-quality care.
Our Bryn Athyn Home Care Services
No matter what your loved one's specific needs may be, Visiting Angels is here to provide the reliable and compassionate home care services they require to remain in the comfort and security of their own home. We offer a wide range of home care services in Bryn Athyn, PA to meet our clients' diverse needs, and our caregivers are trained and experienced in imparting care with kindness and respect.
Companion Care
At Visiting Angels, our companion care services help provide seniors with the companionship, conversation, and support they need to stay connected and engaged. Our patient caregivers can help plan and prepare meals, assist with light housekeeping, participate in your loved one's favorite hobbies, enjoy a movie together, or encourage them to reminisce about their favorite memories. These services help your loved one foster a sense of belonging and feel enriched.
Personal Care
Maintaining hygiene, preparing meals, and other routine activities can become difficult as you age or after a medical procedure. To foster your loved one's independence and dignity, our caregivers can be there to assist them with these activities and more.
Our personal care services include:
Meal preparation
Medication and physician appointments reminders
Light housekeeping and other household chores
Hygiene assistance
Toileting and incontinence care
Overnight stays
Palliative Care
Managing a chronic condition or new disability can be challenging to navigate without assistance. At Visiting Angels, we offer palliative care services designed to support clients as they navigate their new normal.
With a focus on symptom and pain management and emotional support, we help foster your loved one's mental health and physical comfort. We can also help them access spiritual counseling to improve their emotional well-being.
Social Care
As individuals age, it can become increasingly difficult to maintain social ties, especially as adult children and grandchildren grow up and start their own families. That's why we offer social care services to help seniors remain connected to friends and family by teaching them how to use social media and digital technology.
The social care services include:
Learning basic cell phone functions, such as video calls
Setting up social media accounts
Helping clients use Skye and email
Learning how to shop online and search for local social events
Additionally, our caregivers are fully qualified to drive your loved one to social events, church, or local stores.
Alzheimer's & Dementia Care
Managing conditions like Alzheimer's and dementia can feel like a paradox—it's better for your loved one to remain in familiar surroundings, but the symptoms of their condition make it hard to accommodate that need.
Our compassionate caregivers in Bryn Athyn, PA can help by providing in-home memory care. From medication reminders and safety supervision to companion care and hygiene assistance, we can provide all the assistance your loved one needs to remain healthy and comfortable at home.
End of Life Care
In-home end-of-life care can be invaluable to seniors and their loved ones. Our caregivers can provide emotional support, companionship, and assistance with daily tasks so you and your family members can simply focus on being together. We're dedicated to helping clients and their families find peace, comfort, and dignity during this difficult time.
Our end-of-life care services include:
Meal preparation
Laundry
Changing bed sheets
Light housekeeping
Grocery shopping
Errands
…and more
Fall Prevention Program
As individuals age, they can become less steady on their feet, and bones become more brittle, increasing the risk of falls and injury. Our fall prevention program in Bryn Athyn, PA helps reduce the risk of falls through risk assessments, recommendations for home safety modifications, and mobility support and supervision.
Respite Care
No matter how committed you are to your loved one's well-being, every family caregiver needs a break. Getting proper rest or taking time away from caregiving prevents burnout and supports your overall health.
Our caregivers provide respite care to ensure your loved one's health, safety, and comfort while you take the time you need to take care of yourself. Rest assured that your loved one will be in excellent hands while you're away.
Recovery Care
When recovering after a medical procedure, injury, or surgery, home is the place most people want to be. With our recovery care, your loved one can recover safely and comfortably at home. From medication reminders and mobility assistance to light housekeeping, they'll do whatever they can to make your loved one's recovery more pleasant.
24-Hour Care
Our 24-hour care services are designed to provide around-the-clock care and support to clients who require constant supervision or continuous monitoring. Not only will our caregivers help your loved one with daily activities, they'll also track your loved one's symptoms, provide updates about their condition, and be ready in case your loved one needs help in the middle of the night.
Live-In Care
Our live-in care services provide clients with 24-hour care and support in the comfort of their own homes. Our Bryn Athyn, PA caregivers live with the client in their home and are available to provide assistance with routine activities, such as bathing, grooming, dressing, and meal preparation. They can also provide companionship, emotional support, and medication reminders.
Why Choose Visiting Angels
At Visiting Angels, we understand that choosing a home care agency can be a challenging decision. We strive to make the decision easier by providing reliable and compassionate senior care throughout Bryn Athyn, PA and the surrounding areas.
When you choose Visiting Angels, you can expect:
Compassionate and experienced caregivers committed to providing personalized care.
Customized care plans tailored to your loved one's unique needs and preferences.
A wide range of comprehensive services to meet a wide variety of needs.
Regular check-ins and communication with our caregivers to ensure that your loved one's needs are being met.
A commitment to the highest quality of care and customer service.
Areas We Serve
Visiting Angels provides home care services to seniors and their families in a wide range of areas in and near Bryn Athyn, Pennsylvania.
Our service areas include:

The Caregivers at Visiting Angels Are Ready to Serve You
Whether your loved one needs assistance with daily living activities, help managing a chronic condition, or companionship and emotional support, the caregivers at Visiting Angels are ready to care for them. Contact our caregivers in Bryn Athyn, PA today to learn more about our services and how we can help your loved one thrive at home.
If you are ready to schedule an initial meeting, or if you want to learn more about our home care services, contact us.
Serving Jenkintown, Abington, Huntingdon Valley, Glenside, Chestnut Hill, Flourtown and the Surrounding Areas
Visiting Angels
JENKINTOWN, PA
1250 Greenwood Ave #1A
Jenkintown, PA 19046
Phone: 215-938-7201
215-938-7202
Fax: 215-887-7204