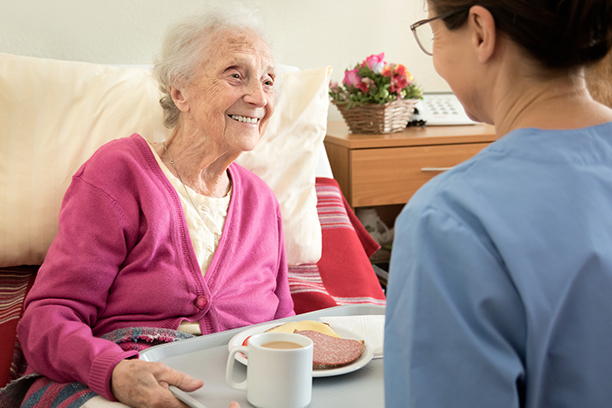 How Senior Companion Care in Jenkintown, PA and Surrounding Areas Encourages Social Wellness
At Visiting Angels, our senior companion care services include helping elderly adults in Jenkintown, Ambler, Abington, Philadelphia, Hatboro, Horsham and surrounding communities in Eastern Montgomery County, PA learn how to use digital technology to socialize and stay in touch with loved ones
At Visiting Angels Jenkintown, we pride ourselves in taking a holistic approach to senior care, which involves caring for seniors inside and outside their homes. Each older adult is a complex individual, with complex needs. This means that their in home care cannot begin and end at just helping them take care of their physical needs. For nearly all seniors, elderly companion care is an absolute must when it comes to ensuring that an older adult is truly getting everything they need and living their best life.
At Visiting Angels in Jenkintown, PA and all across the country, we believe that compassion is an essential ingredient to home care. This is particularly the case when it comes to our social care program. It is of paramount importance to ensure that your loved one feels like the care they receive is genuine.
Many seniors experience loneliness and low self-esteem, and companionship may seem very unnecessary to them. It is our job to make sure we provide it in the most loving and compassionate way possible, and we have seen it do wonders for so many people across this great country.
How Our Senior Companion Care Services Help Seniors in Jenkintown and Surrounding Communities Stay Connected
Another thing that has been doing wonders for older adults is technology. Loneliness is something that plagues the senior community. This is because many seniors may already have experienced the loss of a life partner. They could also be losing many friends as well. This can all leave even the strongest among us feeling isolated and alone. But technology is changing all that and at staggering rates.
As part of our senior companion care services, we help older adults take advantage of everything technology has to offer as one of the ways to stay engaged and socially active.
Let's take a look at how older adults benefit from staying engaged with digital platforms:
Spending time online can result in 20 percent less depression amongst seniors.*
According to a study from the University of Arizona, older adults with active Facebook accounts can experience a 25 percent improvement in their working memory.
Seniors react positively to social networking - sites like Facebook. This was measured in a recent study through breathing rates, brain stimulation and pupil dilation.**
Our social care program involves helping seniors learn how to use digital tools in a variety of ways, including:
Helping seniors learn how to use basic functions on a cell phone, like entering in contacts, using apps, and using Facetime to communicate with loved ones
Helping seniors set up a Facebook account and use it to keep in touch with friends and family
Helping seniors use Skype and email to stay connected
Helping seniors use the Internet to do research, shop, look up fun event in Eastern Montgomery County and more
Our caregivers can help your loved one use technology. To find out more about that and our senior companion care services, please contact us at our Jenkintown, PA office today.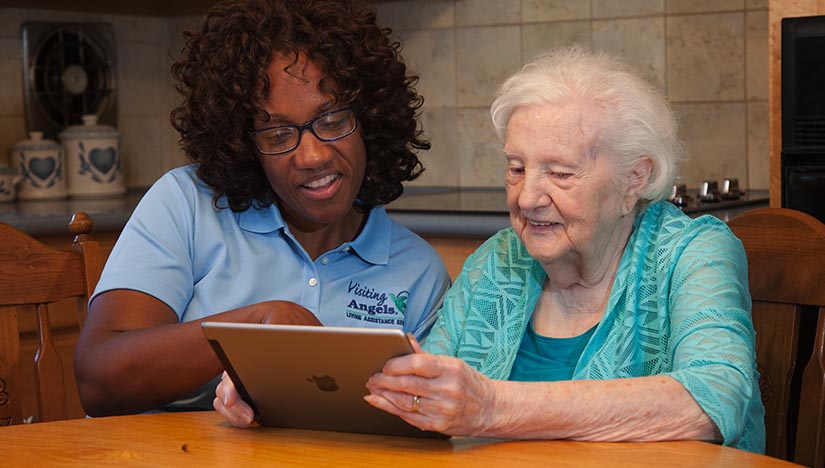 * Washington, D.C. based Phoenix Center
** Journal Cyberpsychology, Behavior, and Social Networking
Serving Jenkintown, Abington, Huntingdon Valley, Glenside, Chestnut Hill, Flourtown and the Surrounding Areas
Visiting Angels
JENKINTOWN, PA
1250 Greenwood Ave #1A
Jenkintown, PA 19046
Phone: 215-938-7201
215-938-7202
Fax: 215-887-7204