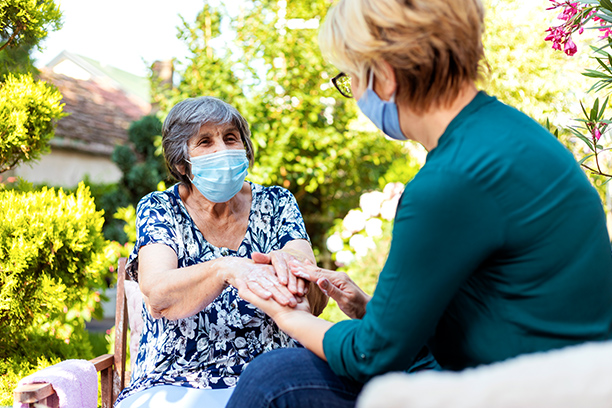 Long Distance Elder Care in Louisville
How Elder Care in Louisville Can Help Your Family Find Peace of Mind
Setting up elder care for a loved one in Louisville can be especially challenging when you live hundreds of miles away. At Visiting Angels® Louisville, we're committed to making this process as easy as possible for long distance families. Our services can be coordinated from a distance so that elderly adults who live in different cities or states than their loved ones can receive the high-quality support they need to continue living at home where they feel most comfortable.
About Our Long Distance Elder Care in Louisville
If you live hours away from your parents or grandparents, you're not alone. These days, it's increasingly common for Americans to live in different locations than their family members. Fortunately, distance no longer presents the hurdle that it once did. Advancements in technology allow us to stay in the lives of those we love even when we can't always be physically present.
Nonetheless, it can be heartbreaking to realize that you're not able to support a loved one as they encounter age-related difficulties. While you can't assist them personally, you can ensure they have access to compassionate at-home care.
We'll guide you every step of the way as you coordinate care for your loved one so that you can have peace of mind about their safety and well-being. You can easily reach us at any time, and you can rely on us to keep your family in the loop with regular updates.
The following are the steps that we'll take to help your loved one get started with our long distance elder care services at Visiting Angels Louisville:
Answering your questions regarding care by phone or email
Setting up a one-on-one meeting with your loved one at his or her home
Coordinating phone consultations with other involved family members
Designing a customized care plan for your loved one with your family's input
Making an ideal caregiver match based on required skills, scheduling availability, personalities, and lifestyle preferences
Immediately notifying you of any changes in your loved one's well-being
Conducting check-ins to ensure your loved one's safety and quality of care
Maintaining an after-hours phone line where you can contact us in case of an emergency
Don't hesitate to help your loved one get the high-quality elder care he or she needs. Contact Visiting Angels Louisville today to learn more about our services for seniors in the Louisville area.
Serving Serving Jefferson and Oldham County
Visiting Angels LOUISVILLE, KY
126 S Sherrin Ave
Louisville, KY 40207
Phone: 502-897-6547