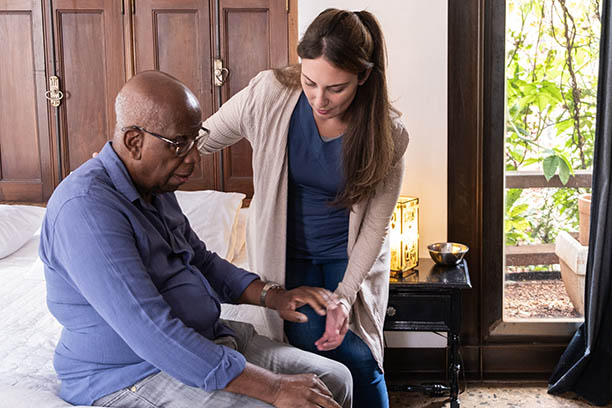 Certified Palliative Care from Visiting Angels in Manassas, VA
The Certified Palliative Care Program from Visiting Angels aims to provide physical, emotional, social and spiritual support for seniors in Manassas, VA
Palliative services from Visiting Angels focus on providing comprehensive care and comfort to clients despite their medical condition or life expectancy.
It is important to note that the terms palliative and hospice care are not the same, even though they have some similarities. While they both aim to relieve discomfort and boost quality of life, hospice care is typically provided to people who are nearing the end of life transition. Palliative services, on the other hand, can be provided to anyone who requires care that can elevate their overall well-being.
About the Certified Palliative Care Program
At Visiting Angels, we provide this program through our unique Life Care Navigation collection of care services for seniors. This collection includes end of life care, too.
If your loved one is interested in our home care services, you will be happy to learn that this program is based on a holistic caregiving philosophy that caters to the needs of the whole person. This program offers support, comfort and assistance, making sure that all the needs of each client are met at all times and promoting a more positive outlook on life.
This type of care focuses on the physical, emotional, social, and spiritual needs of seniors, including:
When it comes to the physical care needs of our clients, we look for age-related signs and changes in our clients and provide non-medical care that can make a real difference in their lives
As for the emotional needs of seniors, we support them in their endeavors and prevent depression, loneliness, stress, and anxiety
We address their social needs by building strong relationships with them and offering companionship and conversation
When it comes to the spiritual needs of older adults, we help our clients gain comfort from age-related difficulties and always treat them with the utmost respect
Palliative Care vs. Hospice Care
Palliative care is focused on supporting the recovery, comfort, and overall wellness of senior adults. Hospice care is primarily for seniors with a limited life expectancy due to illness or age and focuses on making that remaining time as comfortable as possible. Hospice care is provided by a medical agency. While Visiting Angels is not a hospice care provider, our Certified Nurse Aides complement hospice care to ensure your loved one received comprehensive assistance at home. Visiting Angels CNAs can provide those services not included in hospice care, such as bathing, companionship, toileting and all other non-medical care services. Let Visiting Angels fill the gaps in your loved one's palliative care plan.
Getting Started with Visiting Angels
If you think your loved one could benefit from our palliative care services, call our Manassas, VA office today. Getting started with our services is as easy as it gets – all you have to do is get in touch with us and we will arrange for a free in-home consultation with your family. We are happy to help!
Serving Prince William and Western Fairfax Counties including Fort Belvoir and Lorton
Visiting Angels
PRINCE WILLIAM COUNTY, VA
9161 Liberia Ave # 205
Manassas, VA 20110
Phone: 703-530-8811
Fax: 703-656-4769