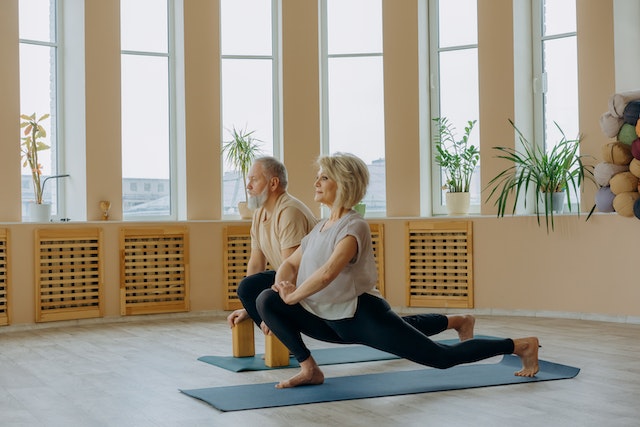 Build Flexibility with Gentle Moves
Flexibility is an interesting concept. In relationships, experts advise us to be flexible — to look at other ways of doing things and to go with the flow. As it turns out, that advice is equally on target regarding being flexible with our bodies — especially as we age. The more we can work with our bodies to explore what kind of movements allow us to make the most of our abilities to remain comfortable and enhance mobility, the better off we'll be. And the role of mobility in successful aging can't be overestimated: it promotes independence and the simple but profound ability to enjoy life more fully.
A type of exercise that is recommended for individuals of all ages, stretching increases mobility and flexibility by lengthening the muscles, either with movement or by extension. Flexibility is the ability of joints (where two or more bones meet) to move easily through their complete range of motion without being limited by ligaments, tendons, or muscles. Regular stretching is one of the most effective means of maintaining good balance and avoiding falls.
"If a muscle doesn't have the ability to sufficiently relax and stretch, it will change your body's biomechanics, potentially leading to strain or stress on other parts of the body," explains Bryant Walrod, MD, a sports medicine practitioner and assistant professor of clinical family medicine at The Ohio State University College of Medicine. He emphasizes that a muscle that is incapable of adequate relaxation—which is what allows it to stretch—can restrict mobility.
For many people, stretching is a healthy-aging superpower: when muscles and joints are well-maintained, they allow movement to be less painful (or even pain-free, for some fortunate folks). It covers a wide range of activities, and it's beneficial for literally every part of the body (even fingers and toes).
Here's why flexibility is a jewel in the crown of healthy aging, according to healthline.com.
Fewer injuries
By helping the body eliminate its muscle imbalances, stretching lessens the likelihood of injury during physical activity. Building strength and flexibility by stretching gives the body more resistant to damage.
Reduced pain
Much like the sun helps open a blossom, stretching helps open and lengthen a muscle. Looser and more relaxed muscles lead the way to fewer pains and, in many cases, less cramping.
Better balance and posture
Improved alignment is a natural byproduct of the enhanced flexibility stretching provides. Individuals may also find it easier to sit in various positions after muscles become more supple.
An enhanced mindset
To be completely unscientific about it, stretching simply feels great. It often creates a relaxation response, and who doesn't like that, right?
More strength
Ideally, and with a good exercise routine, enhanced strength goes hand in hand with more flexibility.
Improved physical performance
It makes sense that when muscles work to their full potential, people feel more energetic and confident as they perform the physical activities they enjoy — from gardening to golf to playing with an active grandchild.
Like many things worth having, a regular commitment is required to reap the benefits of stretching. Before starting, however, talk to your physician about your plan, and seek their input. Remember to start with a quick warm-up: cold muscles are not ready to stretch. Just a five or 10-minute walk (in place is fine) will get the blood flowing and the fibers ready for movement. This small but essential act of preparation helps avoid injuries.
Check out these resources.
There are many no-cost resources that can serve as your personal trainer when it comes to attaining improved well-being through stretching. Here are a few resources:
If an individual seeks something more customized in the Mesa area, local options exist, including Stretch Lab and Stretch Zone (paid services).
Whether it's companionship, assistance with post-surgical care, respite care, or any services along these lines, contact Visiting Angels of Mesa. We work with families across the Phoenix area. Please contact us at 480-833-8247. We'll be happy to answer any questions you may have and introduce you to our services.