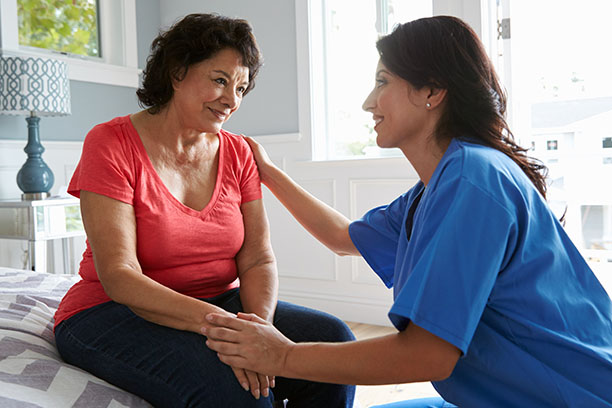 Dementia Care in Minot
Sometimes when you are providing care for a loved one with dementia, it can be hard to really see the forest for the trees. It's easy to become so preoccupied with just trying to keep them safe that you forget about the things that contribute to their overall quality of life, or yours. That's where dementia care from your local professionals at Visiting Angels® Minot can help. We provide exceptional, non-medical care to seniors in Minot and invaluable support to their families near and far. With the right approach, our care can transform the life of a senior with memory loss, allowing them to live fuller, safer, and happier lives at home.
How Dementia Care Helps Seniors in Minot
Memory loss impacts every senior a little differently. For some, the onset is slow and steady, starting with little lapses in memory like forgotten dates and trouble remembering words. For others, the disease can progress quickly and include rapid physical degeneration. Whether it sets in quickly or slowly, one thing is the same for all seniors. They all need sensitive, dignified care. At Visiting Angels Minot, that's the only kind of dementia care that we provide, and seniors reap the rewards of our compassionate approach.
Some of the benefits that dementia care from Visiting Angels Minot can bring include:
Higher self esteem and boosted self-confidence
Improved hygiene and a tidier appearance
Fewer incidents of in-home accidents
Consistently good nutrition and medications taken on time
A neater, more organized household
More energy and greater motivation to get outside
Less stress and greater peace of mind for family members
Local Dementia Care Experts in Minot
What could be better than knowing that help is close to home? Maybe knowing that help is not only local, but is truly invested in the well-being of your loved one, and of the entire community. At Visiting Angels Minot, we're dedicated to lifting up seniors in the communities of Grand Forks, Williston, Devils Lake, and Minot because those are our communities, too. One way that we do that is by making sure that families can get answers to their questions easily, conveniently, and at no cost. It just takes a phone call to put you in touch with one of our Minot area dementia care experts.
To learn more about our dementia care services, call Visiting Angels Minot and book your free, in-home consultation today.
Serving the City of Minot and the Surrounding Areas
Visiting Angels
MINOT , ND
7 - 3rd St SE #101
Minot, ND 58701
Phone: 701-852-2636
Fax: 701-852-2638