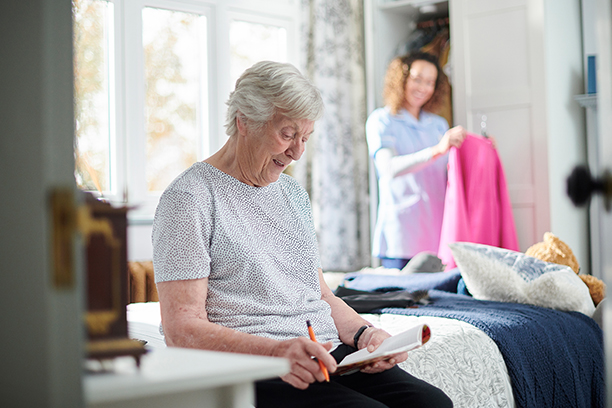 Why Visiting Angels Is a Better Choice for At Home Care in Minot
Are you looking for a trusted at home care provider to assist your loved one? With Visiting Angels® Minot, you can be sure your loved one is cared for by someone who understands there's no place like home. The mission of our caregiving team is to help seniors stay where they feel happiest and most comfortable. With our help, your loved one can continue living at home instead of having to move to an unfamiliar space where they have less control over their daily lives.
Want to know more about what makes our care agency such an excellent choice for at home care in Minot? Take a look at the five reasons listed below for additional insight into our caregiving approach and philosophy.
We Offer At Home Care Tailored to Seniors' Needs
The best care is care that has been meticulously personalized to fit the care recipient's preferences, daily routines, and care requirements. We go above and beyond for our clients by building customized care plans that can be adjusted over time. With this level of flexibility, you can know all of your loved one's needs are being tended to.
We Base Care On Our Clients' Schedules
Since care is best when it's customized, we also deliver it according to the personal schedules of seniors and their family caregivers. We believe it is important for elderly adults to have the opportunity to maintain the daily routines and rituals that bring them comfort and joy.
We Minimize Your Care-Related Stress
Care should take the stress out of the aging journey, not add to it. You can count on us to be here for your family throughout every stage of setting up and delivering care.
We Hire Compassionate At Home Care Providers for Minot
Our care providers share our philosophy of compassionate care and deliver customized services with the respect seniors deserve. They also strive to build relationships with elderly adults and their families, making the care process even more meaningful.
Get Started With At Home Care Today!
Getting started simply requires a quick call to our local office. We'll arrange a free consultation in which you and your loved one can ask questions and receive personalized recommendations for a custom care plan.
Book your at home care consultation in Minot or a nearby community such as Williston, Grand Forks, or Devil's Lake, or a town in Pierce, Nelson, Ramsey, McHenry, Ward, Williams, Mountrail, and Burke Counties. Call Visiting Angels Minot today!
Serving the City of Minot and the Surrounding Areas
Visiting Angels
MINOT , ND
7 - 3rd St SE #101
Minot, ND 58701
Phone: 701-852-2636
Fax: 701-852-2638