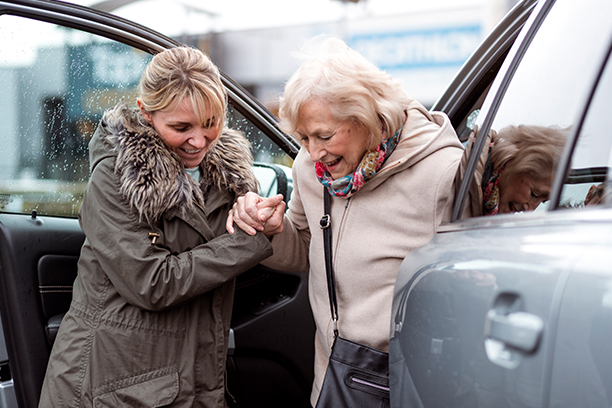 Home Care Services in Myrtle Beach
When loss of vision, mobility, or memory begin to interrupt a senior's everyday activities, it can leave the weight of the world resting on the shoulders of their loved ones. The pressure to ensure that they are receiving the necessary care can increase significantly when you don't live nearby. Home care services from Visiting Angels® Myrtle Beach can help to relieve that pressure by bringing the care your loved one needs right to wherever they are.
Home Care Services in Myrtle Beach Can Help
Sometimes, it's obvious to everyone around them that a senior needs more help. Advice from a friend or a medical diagnosis can provide clear guidance but the signs are not always so black-and-white. So what can you watch for that may indicate it's time to get home care services for your loved one in Myrtle Beach?
Some signs your loved one might benefit from care services include:
They have trouble getting in and out of bed, or up and down stairs
You've noticed an increase in the amount of bumps and bruises they get at home
They've been missing appointments or forgetting to take medications
They've been neglecting their personal hygiene or grooming habits
They have shown less of an interest in favorite past times and hobbies
They've been avoiding or are not communicating with friends or relatives
Their households are showing signs of neglect, such as unpaid bills
At Visiting Angels Myrtle Beach, we offer a comprehensive suite of Life Care Navigation™ home care services which can address all these concerns and more. You'll be able to pick and choose which services suit your loved one best and customize their care to fit perfectly with their lifestyle.
Home Care Services Myrtle Beach Can Count On
Where our care services are concerned, reliability is key. That's why Visiting Angels Myrtle Beach is careful to provide comprehensive support for families that engage our home care services, including providing 24-hour client support via telephone. We also make sure to stay flexible, so that if you ever need to make changes to your services, we can make the necessary adjustments to ensure that your loved one in Little River, The Grand Strand, Conway, Murrells Inlet, Longs, and North Myrtle Beach always has the care they need.
To get started with a free consultation on home care services, call Visiting Angels Myrtle Beach today!
Serving the Grand Strand, Myrtle Beach and Surrounding Areas
Visiting Angels
MYRTLE BEACH, SC
2105-D Cromley Cir
Myrtle Beach, SC 29577
Phone: 843-970-2888
Fax: 843-970-2934