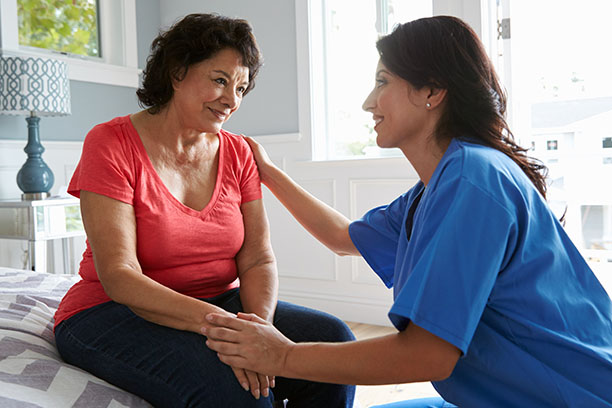 Dementia Care in Newberg
When your mom or dad is diagnosed with dementia, there are many things to consider. Will family members be able to commit to providing care or will you require outside assistance? Is your loved one open to institutionalized care or would they prefer to remain at home? These are just a few of the questions you may be asking as you begin coping with your loved one's illness. Dementia care from Visiting Angels Newberg can provide the additional assistance your loved one will need to remain in the comfort of their home.
Experienced Care from Visiting Angels Newberg
Visiting Angels Newberg is an experienced provider of dementia care. Specialized dementia training is offered to our caregivers as part of our commitment to providing quality memory care services. Those caregivers who choose to partake in this additional education, will receive a dementia care certification if they successfully pass the examination.
Through partnerships with dementia industry experts, caregivers can receive valuable information regarding issues related to dementia and Alzheimer's care. The skilled dementia care professionals from Visiting Angels Newberg are knowledgeable regarding the specific nuances of caring for seniors with memory related illness.
Dementia Care Keeps You Safe
Specialized dementia care from Visiting Angels Newberg can help keep your loved one safe at home. Whether we are providing walking assistance, helping to prepare dietary conscious meals, or giving medication reminders, your memory care specialist will have the safety of your loved one at the forefront of their care.
Additionally, caregivers can provide aid with transportation and running errands so you don't have to worry about your loved one missing appointments. Dementia care services from Visiting Angels Newberg help keep your loved one safe and comfortable at home when it might not otherwise be possible.
Dementia Care Is also Respite Care
Enlisting the help of a dementia care specialist from Visiting Angels Newberg frees you up to focus on other important aspects of your life. Trying to provide assistance to a parent or loved one who suffers from dementia can be stressful for a variety of reasons. The time constraints alone can be overwhelming. When you add to that mood swings, changes in personality and paranoia, caring for your loved one can really take a toll on your physical and emotional well-being. Thankfully, the knowledgeable and compassionate dementia care providers from Visiting Angels Newberg are used to working with memory disorder patients and are able to help their clients thrive at home despite their challenges.
If you have a loved one who is living with dementia, the care offered by Visiting Angels Newberg can help. Call us today to learn more about our services and how we can help your family.
Serving Newberg, McMinnville, Oregon City, Oregon
Visiting Angels
NEWBERG, OR
700 Deborah Rd #120
Newberg, OR 97132
Phone: 503-538-9505
877-888-9505
Fax: 503-554-0964