Home Care Services in Newington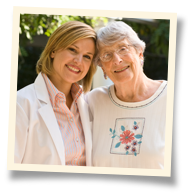 With a range of customized home care services, Visiting Angels® Newington provides safer, happier lives for local seniors. Our mission is to help your elderly loved one remain at home and avoid the difficult move to an assisted care facility. We believe seniors are much better off when they get to hold on to their familiar and comfortable home life, and we are proud to help more families make that happen.
We can help with anything from basic household chores to more extensive support like Alzheimer's or dementia care. In fact, with those memory-based disorders, our care can be even more important, as retaining the familiarity of home can help them to more easily deal with the effects of their condition.
If both of your parents in the Newington area require care, our in-home support is the best way to keep them together. If they move to an assisted living facility, their differing needs might necessitate that they be separated. With our service, you can provide them both with the customized home care services they require, ensuring that they can remain together for as long as possible.
About Our Home Care Services in Newington
No matter your loved one's specific needs or reason for seeking our support, the most important thing is to keep them at home. Staying at home and avoiding the stress of moving to an assisted care facility is the most effective way for your relative to increase their quality of life. Home life leads to more dignity, comfort, and a stronger connection to the world around them. We are thrilled to provide the flexible support your family needs to make an extended home life possible. We offer:
Compassionate personal care (i.e. bathing and grooming)
A respite for family members
Light housework and errands
Meal planning and prep
Reminders about medication
Alzheimer's and dementia care
Loving companionship
Mobility support
And more!
Dedicated Home Care Services In Your Area
At Visiting Angels Newington, we understand that allowing a stranger to come into your relative's home is a tough decision to make. However, we hope to set your mind at ease. Our crew has been meticulously vetted through our background and reference checks, which means we only hire the most compassionate and reliable people to provide in-home care. You can count on us to deliver warm, respectful support that helps your relative live a better life.
Our service region includes:
Newington
Rocky Hill
West Hartford
Farmington
And surrounding areas
For additional info about our home care services, call Visiting Angels Newington and book your care consultation today.