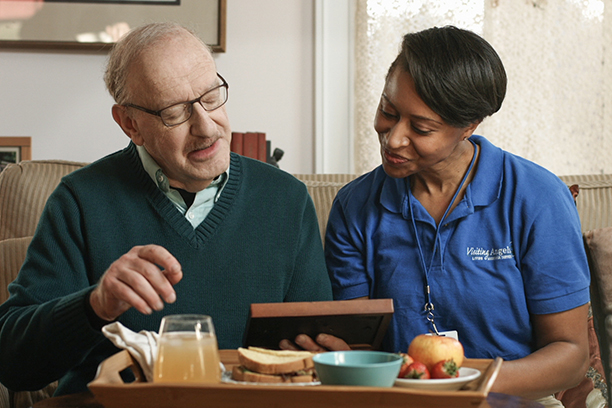 In-Home Senior Care Services from Visiting Angels
Senior care services promote independence and comfortable living at home
Senior care services from Visiting Angels in Newington, CT, and the surrounding areas can help your family on many different levels. With us, your senior loved one can maintain independence in the familiar and comfortable setting of their home. They can get all the assistance they need to lead a fulfilled life and enjoy valuable companionship. You, on the other hand, can get peace of mind that your loved one is getting the care they deserve and that they are safe at home.
When you begin to notice that your aging mom or dad is struggling with activities of daily living, it is time to consider your care options. Our senior care services include a wide range of activities - from companion care that prevents depression and senior isolation to respite care that allows family caregivers to take a break from caregiving. When you choose to work with Visiting Angels, you get a customized care plan built around your loved one's needs, so your family can decide which services would most benefit your parent.
To make sure your loved one's every need is met, you begin your journey with us by talking to one of our home care coordinators, who will discuss your parent's needs with your family. We can also talk to your loved one's medical team to develop a non-medical care plan that perfectly complements their medical care. We can speak to your parent's dietitian as well to learn more about their diet and help them eat well-balanced, healthy meals in accordance with professional guidelines. Getting to know who your parent is and what they want out of care can enable us to provide them with senior care services of the highest quality.
Benefits of Our 24-Hour Home Care

Always Available: Just as the name suggests, our visiting angels are always available. It does not matter the time of day, we will be there when you need us most. We understand that people do not need help only from 9am-5pm, they need it at all times of the day. So, you can rely on us to always be there for you or your loved one.
Companionship: Everyone needs social contact to be happy and healthy. We crave social interaction and if we do not get it, it can make a negative impact on our health. However, our friends and family have their own lives to live. It can be difficult to always make time to come to visit the ones we love. Our caregivers are more than just extra help, they become your friend too
Extra Help: As we age or experience a life-changing injury, doing daily activities on our own can become challenging. We need an extra hand to change the laundry, take out the trash, pick up our prescriptions, and do other common everyday tasks. Our home care providers can help with most of these tasks while allowing you to maintain your independence.
Maintain Independence: Our home care services allow you to maintain your independence. You do not have to move into a skilled nursing home or move in with family members. You can stay in your own home and just get the extra help that you need.
Our Caregivers
With Visiting Angels, you are the one who chooses a caregiver for your loved one. Our team will match you with several care providers who we believe are the right fit for your family, but you get to talk to them and decide who is perfect for your loved one. All our caregivers are trained and qualified to provide all our services and they are all compassionate individuals with a true desire to help others.
Our caregivers can provide our senior care services whenever you need them - on a part-time or 24-hour basis. We are available during the week, on weekends and holidays, and any time during the day or night. If needed, we can also provide live-in care. Tailoring our care services to your needs and schedule is just another way in which we show just how much we care about our clients.
Call Visiting Angels Hartford today for more information on the kind and compassionate home care that has made us a trusted provider in the Newington, Hartford, Southington, Farmington, New Britain, Wolcott, and surrounding Connecticut communities.
Serving Hartford, West Hartford and the Surrounding Areas
Visiting Angels
NEWINGTON, CT
66 Cedar St #301
Newington, CT 06111
Phone: 860-372-4429
Fax: 860-372-4471