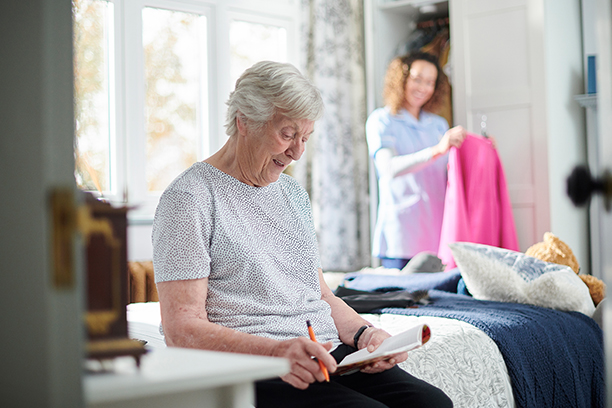 How Our Companion Care Services Help Hartford, CT Area Seniors
When it comes to home care, most people tend to think about the physical, like help with bathing and cooking. However, did you know that it is also a wonderful source of support for social and emotional needs? In fact, if you have a loved one who's struggling to live at home independently – and growing isolated and depressed – our companion care services at Visiting Angels® Hartford provides the ideal solution. With these services, your loved one can benefit in many valuable ways, including:
Regular socialization. When you have companion care services from Visiting Angels Hartford for your loved one, the team can provide a range of services, from help with personal care, to meal preparation and medication reminders. But beyond that, they can serve as a supportive friend and confidant. Your loved one can therefore enjoy regular interactions with someone they come to trust, which can make a big difference in their mental health and well-being.
Less depression. Limited interaction and isolation leads to loneliness and depression. However, over time, your loved one can forge close ties with one of our caregivers, or a team of them, depending on their needs. If they're like many of our clients, they'll even look forward to their time with our caregivers, who often become like family.
More stimulation. Stimulation plays an important role in the overall health of your loved one. In fact, studies show that providing stimulation for the brain through physical and mental activities, can help the mind to function better. Our companion care services at Visiting Angels Hartford can meet this need in a variety of ways, including encouraging your loved one to listen to music, playing card or memory games together, or simply reading the newspaper to them.
Boosted quality of life. With companion care services at Visiting Angels Hartford, our goal is to do more than just provide non-medical physical, emotional, and social support. We want to improve the quality of life for those we serve, as well as provide peace of mind to their families.
Getting Started with Companion Care Services in Hartford
In addition to the benefits above, your loved one can also access a personalized and flexible care plan to meet their needs. That means our services are customized to their unique situation. We can also change or modify their care at any time as new issues or concerns arise. In addition, we can usually provide services within 48 hours, or in emergency situations, the same day.
To learn more or get started, just call Visiting Angels Hartford today. We meet the emotional and social needs of aging seniors across Hartford, Newington, Southington, Farmington, New Britain, Wolcott, and the surrounding Connecticut areas with a variety of companion care services.
Serving Hartford, West Hartford and the Surrounding Areas
Visiting Angels
NEWINGTON, CT
66 Cedar St #301
Newington, CT 06111
Phone: 860-372-4429
Fax: 860-372-4471