Senior Care in Newington, CT: When You Feel Guilty Asking For Help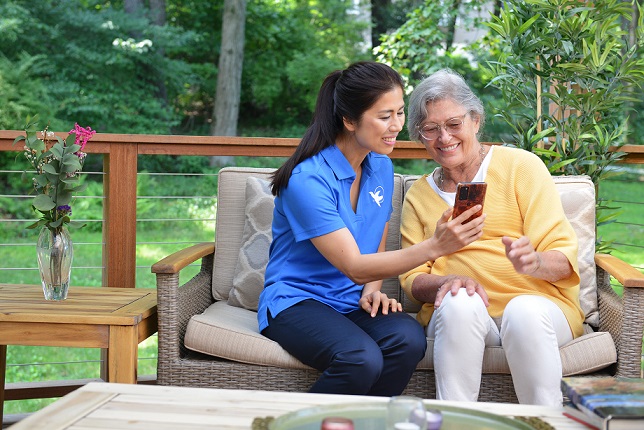 Are you considering enlisting the services of a senior care provider, but somehow guilt is holding you back? Caregiver guilt is a common occurrence and at Visiting Angels® Newington it's something we see a lot with new clients. We'd like to help you see that your guilt is most likely entirely undeserved and that reaching out for professional help is probably what's best for your loved one anyway.
Faulty Beliefs Are Behind Caregiver Guilt
There are a few common faulty beliefs that are at the core of caregiver guilt. We'll focus on two:
Your loved one doesn't want it. In this case, you should probably make it known to them that it's you who needs this help so you can continue keeping them at home where they want to be. Also, you can point out the benefits of outside care such as they can allow the professional caregiver to handle more sensitive personal care tasks that they may already loathe having you attend to. There's also the fact that in our experience, most seniors–even the initially hesitant ones–wind up being the ones to form the closest bond with their caregivers.
You think you should be able to handle it all. Even at face value, you can see the illogic of this belief. Don't let your sense of duty override your common sense. First, it's unreasonable to think that one person could or even should be able to handle the ever-increasing needs of an aging loved one. Second, if you burn out from exhaustion, what happens to your loved one then? And finally, even if you do manage to somehow "do it all," are you doing it well? And how are your other responsibilities holding up?
About Our Senior Care in Newington
At Visiting Angels Newington, we want you to know that asking for help is often the best thing you can do for your loved one. By protecting yourself, you are able to be healthier, spend more quality time together, and provide a better level of care overall.
Our caregivers are known for their compassion and professionalism. We take great care in selecting the area's best candidates, doing exhaustive background research, and finding individuals who display high levels of empathy, patience, and integrity.
We personalize your loved one's senior care services to their needs and preferences. If you're curious what we can assist with, here are some of the most commonly requested services we provide to the Newington area:
Meal preparation
Light housekeeping
Medication reminders
Respectful and dignified bathing and grooming assistance
Incontinence issues
Mobility issues
Errands
Companionship
Safe transportation to local destinations
And much more
Our Senior Care Service Area
Because we are owned and operated locally, our entire focus is on providing the best quality in-home care to our senior neighbors in Newington, Rocky Hill, West Hartford, Farmington, and the surrounding areas.
Let go of unreasonable caregiver guilt and make the choice to reach out for the help you and your loved one deserve. Please call Visiting Angels Newington today to schedule a no-cost, in-home consultation for our services for senior care.